By Kent Bang, Compeer Financial
What looked to be a promising 2020 has quickly evaporated. Hog margins took a freefall in late January and early February. The cash market fell $2 per cwt., but the cutout retraced by over $13 per cwt. in two weeks. The regression cut into packer margins and will likely lead to smaller harvest on Saturdays when the industry needs to stay current. The biggest concern to producers is the deterioration in the futures market, which has reduced the 12-month forward outlook on the board by $20 per head. 
There are three reasons for the recent decline in prices:
1.    Big supplies of market-ready hogs. Productivity gains on a larger sow herd are clear.
2.    Coronavirus in Asia and slow pork movement into China as business activity slows.
3.    Heavier market weights as we reach packer capacity.
In the fourth quarter of 2019, this industry processed 34.3 million pigs, up by 1.2 million (3.5%) from the prior year. In addition, the average weight of those pigs harvested was nearly 218 pounds, an increase of 5.75 pounds per head (2.7%) compared to 2018's fourth quarter. This combined for a 6.35% increase in production when comparing the final quarter on a year-over-year basis. Any way you slice it, this was an extraordinary increase in pig production.
Exports of U.S. pork reached record levels in 2019. Pork and pork variety meat exports totaled 2,672,320 metric tons (a 10% increase) and $6.952 billion ( a 9% jump). U.S. exports of pork were very strong in the fourth quarter, up by 283 million pounds (18.3%) over the prior year. By my calculations, exports would need to increase by 29% to cover the increase in pork production the fourth quarter of 2019 versus 2018. There's no question that's a big number, but one that we thought would be attainable in early 2019 with the issues in southeast Asia.  
It is clear volatility has increased and will likely continue into the future. If you haven't adjusted your risk-management strategies, it's time to consider making changes.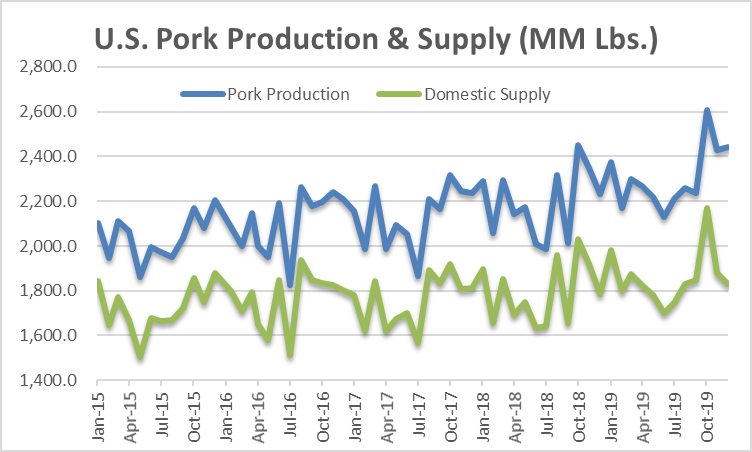 Source: Kent Bang, Compeer Financial
The trend line for monthly production volumes and domestic supplies after adjusting for exports and imports is clear. For the past four years, we have been producing more pork but domestic supply is increasing at a smaller rate due to increased exports of U.S. pork.  

More from Farm Journal's PORK:
Pork Outlook: Don't Let Your Guard Down in 2020
What's the Biggest Game Changer in the 2020 Pork Outlook?
Excitement in the Air at Iowa Pork Congress Despite Tough 2019