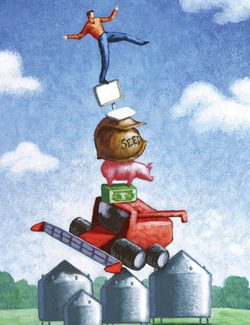 Debt concentrated on $1 million-plus operations
Which farms are most vulnerable should the ag economy spin lower, either from a major drop in crop prices, lower land values or both? A) Small farms; B) Medium-sized farms; or C) The nation's largest farms by sales type? If you guess C, you are absolutely correct.
Large-volume producers are more likely to go out of business than any other sales category, although only a small percentage are truly at risk right now. For those who are vulnerable, it has less to do with management ability, weather, production or marketing.
"Large-scale producers are in reasonably good shape right now, as a group, but farmers in the late 1970's thought they were in reasonably good shape, too.
---
It really boils down to finances because on a percentage basis, this group of producers carries more debt; they're more highly leveraged. To go from 3,000 to 10,000 acres, 2,000 to 5,000 sows or 300 to 1,500 dairy cows, takes big money and much of it is borrowed. Moreover, as a group, the majority of farmers who have purchased high-priced land in recent years and are looking for more are largevolume farmers. In years such as 2011 and 2012 this creates a windfall, given record prices, but on the flip side they have less room to move in a downturn.
For example, the debt-to-asset ratio of Kansas farms with sales of $500,000 to $1 million, and more than $1 million, was 28% in 2011, higher than all other classes. Those with $100,000 to $250,000 in sales had a ratio six percentage points lower, 22%. That's using Kansas Farm Management Association (KFMA) data. USDA data for Kansas show a far greater spread from higher to lower sales classes.
"They're (large-scale producers) in reasonably good shape right now, as a group, but farmers in the late 1970s thought they were in reasonably good shape, too," says Allen Featherstone, a Kansas State University ag economist who is quick to add that he does not predict a downward spiral in either commodity prices or land values.
Featherstone's biggest surprise from the study is the debt-to-asset ratio of Kansas farmers is higher today than it was in 1979 (see "Are Black Swans on the Horizon," September 2012 issue), with a disproportionate amount of that debt held by the largest farms. The mean debt-to-asset ratio in 1979 was 24.6% and in 2011 it was 25.5%
"It's not necessarily growth that is of concern, but the speed of that growth that can be problematic."
---
However, the percentage of farms with more than 40% debt to assets in 1979 was 19.4% and 23.3% in 2011. The percentage of farms with more than 70% debt to assets in 1979 was 1.3% and in 2011 it was 5.7%. It's sobering to think about, but in 2011, the farms with more than 70% of debt to assets more closely match the percentage in 1981 than 1979.
$5 Million Club Risks Are Up. The probability of default has generally decreased in recent years for each of the sales classes, except for those farms with sales of more than $5 million. Risk for this group actually increased from 1996 to 2010. Risk didn't increase because of commodity prices but because debt has risen.
Using KFMA data, Featherstone indicates that fewer than 2% of large-scale producers (more than $1 million in sales) are at risk of default, less for other categories. The only years with less risk of default were '73, '74, '75 and '79; however, the risk changed rapidly from '79 to '81, illustrating that low numbers one year are not necessarily safe for the next.
Kansas debt concentration among large-scale farmers is echoed in other states. Nebraska data show the average debt-to-asset ratio for farm businesses in 2010 was 10.2%; for farmers with more than $1 million in sales it was nearly double at 18.2%. In Iowa, 2012 USDA Economic Research Service data show the average leverage ratios was 10.3%, with the highest being 17.3% for farms with more than $1 million in sales.
"The larger the operation, the more risk it carries, from production all the way to marketing."
---
If this is true, what about the stories that so much land and machinery is being purchased with cash, contrary to the 70's? "I think a lot was probably purchased with cash in the 70's, too," Featherstone says, perhaps even more back then.
"There may not be as much hard evidence as 'stories,'" says Mike Boehlje, a Purdue University agricultural economist. He thinks Featherstone's work about risk would hold for other states.
What could bring big farmers down? Featherstone thinks it would more likely be a major decline in crop prices than an increase in interest rates, although a jump in interest rates could obviously be a factor. He is also concerned about—particularly for large-scale producers because they are more leveraged—the change in government programs proposed in the farm bill, specifically, the shift from direct and counter-cyclical payments to federal crop insurance.
He is concerned that the safety net will fluctuate dramatically from year to year. For example, say corn prices tumble to $3.50, so that is what the revenue side of crop insurance gets fixed at in any given year. Corn was at that level in 2009. That isn't much income protection for present land rents approaching $500 an acre in some parts of the Heartland, and fertilizer prices and seed costs, Featherstone says. Several years of good crops here and abroad could bring crop prices down in a hurry, he says. Large-scale producers need the multiyear protection in addition to the yield protection provided with today's revenue products, Featherstone says.
None of this is to say that farmers should not grow, experts say, but farmers need keep debt levels manageable. They need to maintain flexibility and not look at the world of farming through rose-tinted glasses.
"It's not necessarily growth that's of concern, but the speed of that growth can be problematic," Boehlje says. "Farmers, like other businesses, can grow too big too fast."
It's not just about money, either. One example: they can expand beyond their capability to manage a work force. "This can be a huge issue," Boehlje explains. Farmers need to create and implement an organizational chart that defines and delegates responsibility and authority as their operations become larger. This is not a skill that comes naturally, he says, nor is there anything easy about delegating.
Another challenge, Boehlje says, is that income generated from an expansion is often far slower than what the plan calls for—the start-up problem. This can create real cash flow problems if extra working capital has not been set aside.
In a livestock enterprise, for example, building construction is often delayed and estimated full production levels may take months, even a year, to achieve. On the grain side, the big conundrum can be weather-driven production shortfalls; 2012 was absolute proof.
Boehlje advises that expanding producers, or those considering an expansion, put together a plan for how they will deal with the additional financial stress. "What kind of risk management  strategies can we use to offset that?" he asks.
Think Hard About Cash Rents. One challenge for grain producers is that additional land might be procured through high cash rents, which the producer sees as a flexible cost because it's rented, Boehlje notes. "A multiple-year cash rent contract is not unlike a land payment," he says. Moreover, if someone outbids you at the end of the contract and you have purchased machinery specifically to handlethe additional land, machinery cost per acre goes up.
Producers need to keep this in mind and budget hard before locking themselves into multipleyear cash rents at lofty rates, he says. One reason why land rents are being bid so high is that farmers have excess machinery capacity. It's better to add machinery capacity as land is acquired, not the other way around, he says.
Boehlje is concerned about farmers using up their cash in down payments for machinery or land. "For farmers who do that, there aren't many differences between now and the 1970's," he says. "They are just as vulnerable as they were in 1979."
Danny Klinefelter, ag economist at Texas A&M University, has particular concern about producers locking in cash rents that extend years beyond their abilities to lock in crop prices or crop inputs. If crop prices crash—and at some point they will—cash rents could make producers very vulnerable, he says.
Darren Frye, CEO of Waterstreet Solutions, says the first question producers need to ask before expanding is why they are doing it. The correct reasons to expand include bringing additional family members into the business, providing additional income streams and new profit centers located. "Sometimes, however, farmers expand for ego-driven reasons, and in these cases, the results can be disastrous and put the entire farm business at risk," Frye says.
Avoid Agronomic Mistakes. Frye sees expanding producers making key mistakes. Chief among them is actually what farmers do best: agronomic practices. Large-scale producers often get in too big a hurry to plant crops in the spring, not taking their time with the details, he says. Doing so can mean the difference of at least $250 per acre in revenue. This is even more crucial when expanding because getting bigger means higher costs, he says.
"Sometimes, we get rushed at planting and aren't able to give soil condition the proper attention it deserves. While understandable, something that basic and simple can cause us to give up as much as 40 bu. per acre," Frye says. At $6 corn, that is $240.
"We also sometimes get too cheap on inputs, such as forgoing the $17 per acre cost for fungicide treatment. That can cost us more on yield than we save on cost." On the business side, far too many producers decide not to spend the extra few dollars for the harvest price option on crop insurance in 2012, Frye says. That cost savings turned into an excruciatingly painful loss of revenue last year.
"The larger the operation becomes, the more risk it carries, from production all the way to marketing," he adds. The last few years, farmers have not had to pay the price at the margin for poor management decisions because profits have been so huge, he adds.
Frye is not concerned about 2013, but he is about 2014 and 2015. "If we get three good crop years, we could be staring at $3.50 corn. Farmers need to plan for that potentiality." He asks: "How does that make your expansion look?"
Frye suggests maintaining a working capital of 40% of gross revenue to offset the high level of risk from production and markets. Whether it's poor timing for an expansion or the wrong variety of seed chosen for the year's conditions, strong working capital can be the difference between keeping you in business and having to file for bankruptcy, he says.
Root of Failure. "When something goes wrong, things can happen really fast," he says. "You need a buffer."
Even good producers who lack sufficient working capital after an expansion might not have enough liquidity to weather a downturn, Klinefelter says. Producers need to think about risk mitigation strategies while the outlook is still good.
One real weakness he sees with some growth-oriented producers is the need to do everything themselves, Klinefelter points out, saying it's a prescription for failure. It's important to know your management weaknesses, which are only amplified after an expansion, so you can improve them.
Klinefelter advocates the use of peer groups. "This is particularly important when you are growing fast. You have to be able to talk with others who have been there."
Before expanding, it's also critical to not only run "what do I do if?" scenarios through budget and cash flow balance sheets, Klinefelter says. "As you grow, you have to continually change and get better. Any manager hits the ceiling. Bring in people to challenge you with new ideas, even if it's people from outside the family farm. Selfassessment is really hard to do. Get outside executives to assess you." One of the biggest enemies of producers, particularly as their operations become larger and more successful, is arrogancy, Klinefelter says.
New Paradigm. "Grain farmers have had an unbelievable run—amazing profits eight out of the last nine years, which has some believing we're in a new paradigm. That's dangerous thinking; don't believe it," Klinefelter says.
"Change can be good: but the word 'expansion' should be forbidden," says Bob Aukes, president of AG Finance, Inc., Des Moines, Iowa.
"What is driving the change? Why are you making the  change?" he asks. A change on your operation to lower cost, reduce risk or increase profit is great. Even using the word "expansion" can turn your lender against your plan, he says. The lender could easily suspect that the real objective is merely growth.
The words "expand, grow and big" should not be used with your lender. If you approach your lender with a plan to budget and lower cost, reduce risk and increase the margin, you will have your lender's full attention. Then, with lower cost, reduced risk and increased profit, growth can happen.
Aukes sees one more problem people make as they become larger: loss of control. Enterprise units get out of producers' management control. Moral: Make sure you can manage a much larger operation before investing in one.
For some, the present size might be the right size and there might be other ways and methods to increase profitability, he says.
For example, increasing from 1,500 to 4,000 sows is one kind of expansion, which requires a huge capital outlay. Increasing market weight from 258 lb. to 283 lb. also greatly increases the amount of pork sold, but with less capital.