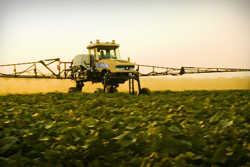 From great rooms and super-sized drinks to king cabs and not-so-mini minivans, bigger seems to be better. But that's not always the case with self-propelled sprayers.
"We've seen farmers overbuy into a self-propelled sprayer that simply was too much machine for their operation," says Arnie Sinclair, national accounts manager for AGCO Application Equipment. "Scaling back on size can have significant advantages – from an investment perspective, and when it comes to maneuverability, fuel efficiencies and soil compaction."
Sinclair says there are a few sizeable factors to consider in sprayer selection, such as tank capacity.
"If your application rate is 12- to 20-gallons-per-acre compared to 30- to 50-gallons-per-acre for liquid fertilizer, you may be able to save money by purchasing a machine with a 400- to 800-gallon tank versus a machine with greater capacity," explains Sinclair. "Likewise, if you're willing to fill a few more times each day, a machine with a smaller tank may fit your needs."  
Row width is another consideration in sprayer size. "A sprayer with a narrower wheel leg and tire, like a SpraCoupe, may be a better choice for use in crops with narrow rows," notes Sinclair.
While going too big has its hurdles, going too small has its own disadvantages. For instance, pull-type sprayers often don't provide the maneuverability or ground clearance of self-propelled sprayers. Ultimately, knowing your operational needs and the options available in self-propelled sprayers is a great way to find the best fit.