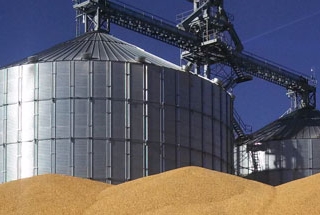 U.S. corn inventories are forecast to rise to the highest in almost three decades after two straight years of record harvests, cushioning livestock and ethanol producers against crop losses after excessive rain in June.
Domestic stockpiles as of June 1 probably climbed 18 percent to 4.557 billion bushels, according to a survey of 27 analysts by Bloomberg News before a government report due Tuesday. That would be the highest for the date since 1988. Bigger supplies will push prices down 21 percent by September, according to AgResource Co.
Adding to the glut, the U.S. Department of Agriculture forecasts that world inventories will jump 13 percent to a 27- year high before North American farmers start harvesting this fall. Expanding stockpiles are providing a buffer after too much rain threatened some Midwest crops. Monsanto Co., the world's largest seed company, signaled June 24 that low corn prices are likely to persist beyond 2015.
"We are in an oversupplied global market," Jeff Hainline, the president of farm and grain-elevator consultant Advance Trading Inc. in Bloomington, Illinois, said by telephone June 24. "Carryover is stored in farmer bins, and they are getting scared they held the corn past when they should have sold."
Corn futures for September delivery on the Chicago Board of Trade rose 2.2 percent to $3.795 a bushel at 10:50 a.m. Prices, which are down 14 percent in the past 12 months, could drop to as low as $3 by September, Chicago-based researcher AgResource forecasts.
Midwest Rains
Parts of the Midwest received three times more rain than usual in June, according to government data. July temperatures, when corn is forming viable kernels on each ear, are at least five times more important than June rainfall in determining U.S. yields, according to AgResource.
"Rain in June has little correlation with final yields, as July and August weather are the most important determinants for corn," Bill Tierney, the chief economist at AgResource, said on June 24 by telephone.
The USDA will release its update on grain stockpiles on June 30 at 3 p.m. in Washington. Domestic inventories on March 1 rose 11 percent from a year earlier, above the 8.6 percent increase expected by analysts surveyed.
"Farmers were still holding as much as 35 percent of last year's production on June 1,, which is the most in five years," said Dustin Weiner, the vice president of grain marketing at Ames, Iowa-based Farmers Cooperative Co., the largest in the biggest producing state. "We are looking at record crop potential this year in Iowa. Every time the market rallied this year, the farmer has been willing to sell, and that will get more intense as crops continue to develop."