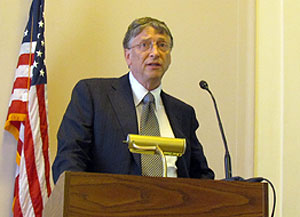 Nothing improves an economy as efficiently as agriculture, the Microsoft founder says
Investing in agriculture is essential if the fight against world poverty is to succeed, according to Microsoft founder Bill Gates, who spoke at an International Agriculture and Food Security Briefing sponsored by Farmers Feeding the World, a Farm Journal Foundation Initiative, and the Senate Hunger Caucus.

"It's been proven that of all the interventions to reduce poverty, improving agricultural productivity is the best. All the other different economic activity—yes it trickles down. But nothing as efficiently as in agriculture," Gates said to a packed conference room in the U.S. Senate office building.

Several congressmen and many staff attended the briefing, along with key influencers in agricultural policy. The event offered a rare chance to hear from Gates himself about his foundation and its work in agriculture.

"I want to talk about why investments in agriculture make such a big difference in the lives of the poor," Gates said. "Our agriculture program has become one of our biggest, and it's one of our fastest growing. That's because we've seen huge results, and without it we don't see a way of achieving our goals, where kids can be healthy, their brains can fully develop, and they can have a chance to live a normal life.

"Most of the poor people of the world are farmers—farmers with very small plots of land, who have to deal with a great deal of uncertainty because they don't know what their yield is going to be, and in many years they are making just enough—or not even enough—to have the food that they expect."