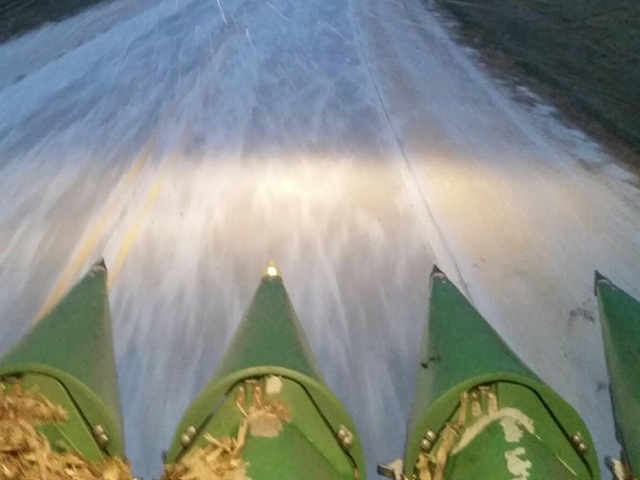 The bitter cold and snow has halted the Iowa's corn and soybean harvest, but not before 92 percent of the corn and 98 percent of the soybeans were harvested.
Iowa farmers used the five days suitable for fieldwork to harvest one-tenth of the state's corn crop during the week that ended on Sunday, according to the U.S. Department of Agriculture National Agricultural Statistical Service. Some cornstalks were baled and manure was hauled.
The 93 percent of the corn acreage harvested was equal to 2013, but two days ahead of the five-year average. It marked the first time this season that the corn harvest was ahead of the normal pace.
The corn harvest in south central Iowa continued to trail behind the rest of the state with only 79 percent complete.
"The snow and bitter cold weather creates challenges for farmers that still have crop in the field," said Iowa Secretary of Agriculture Bill Northey.
Grain movement from farm to elevator was rated 48 percent moderate to heavy, dropping 12 percentage points from the previous week.
Off-farm grain storage availability was rated at 84 percent adequate to surplus. On-farm grain storage availability was 79 percent adequate to surplus.
Hay and roughage supplies were estimated at 97 percent adequate to surplus. Cold and snowy conditions tested livestock and some farmers have started to feed hay.
Snow began Saturday morning across northwest Iowa and spread statewide by the end of the day. Greatest snow accumulations were across northwest Iowa with 5.5 inches at Ringsted in Emmet County.
An inch or more snow accumulated across all but extreme southeast edge of the state.
Topsoil moisture levels were rated 6 percent short, 88 percent adequate and 6 percent surplus. Subsoil moisture levels were rated 1 percent very short, 7 percent short, 84 percent adequate and 8 percent surplus.
Soils were frozen to a depth of two to four inches below the surface as of Sunday.--George C. Ford, The Gazette, Cedar Rapids, Iowa