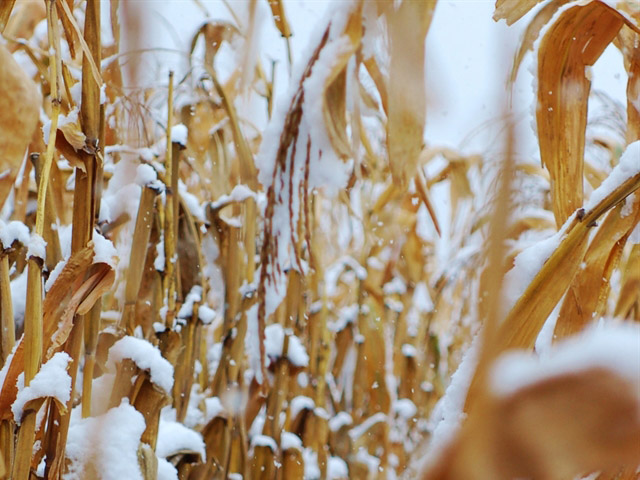 Record cold, banks of snow in the upper Midwest and a chill that will give people shivers from Canada to Texas this week are courtesy of Pacific Typhoon Nuri, which morphed into a super storm that set a barometric pressure record in the Bering Sea.
The storm touched off a chain reaction that will end with most of the U.S. watching thermometers drop way below normal.
"It will encompass all of the eastern, central and even southern states," said Bruce Terry, a meteorologist with the U.S. Weather Prediction Center in College Park, Maryland. "The only areas that will be spared are the central and southern parts of the Florida peninsula."
Winter storm warnings and weather advisories cover parts of Wisconsin, Minnesota and Michigan today as well as Wyoming. Freeze warnings stretch from New Mexico into Oklahoma and Texas, the National Weather Service said.
Warnings for freezing rain, snow and winter storms also extend into northern Ontario and parts of Quebec, according to Environment Canada.
Minneapolis had about 3 inches (8 centimeters) of snow as of 2 a.m. local time, while some areas north of the city got as much as 16.5 inches, the Weather Prediction Center reported. Cheyenne, Wyoming, which had a high of 52 degrees Fahrenheit (11 Celsius) yesterday, dropped to 6 today. In Lubbock, Texas, the high was 81; it was 25 as of 7 a.m. local time.
Temperature records are sure to fall this week. And the extreme change from typical autumn weather will be jarring, said Tom Kines, a meteorologist with AccuWeather Inc. in State College, Pennsylvania.
Temperatures Plunge
"It will probably feel like single digits with the wind blowing," Kines said. "It's highly unusual because there will be some records broken. It isn't something that happens every year this early."
The northern Rocky Mountains and the upper Great Plains will suffer the worst of the cold in the U.S., Terry said. Temperatures are forecast to drop 35 to 40 degrees below normal for this time of year.
With the wide expanse of the plains before it, there won't be anything to stop the cold from reaching far to the South.
"There is nothing to hold it up, no higher elevations, no mountains," Terry said.
Eastern Outlook
Lower readings will reach the U.S. East Coast by the weekend, although they won't have the sting that the central part of the country and Canada will feel.
"As it goes south and east, the departures from normal will be less but you will notice a big change," Terry said.
New York City began its yearly personnel shift yesterday to ensure sanitation workers are available for snow plow duty around the clock.
Back to Typhoon Nuri.
It was born in the Pacific south of Japan and then curved north and east toward Alaska. The super storm that developed out of Nuri's remains dropped pressures across the Bering Sea last week while pressures rose ahead of it. On the other side of that high ridge, more low pressure developed, sucking the cold south across central Canada and into the U.S.
Warm air followed the storm north and this "creates a compensating surge of arctic air downstream into the U.S.," said Todd Crawford, a meteorologist at Weather Services International in Andover, Massachusetts.
"Sort of like shaking a jump rope, the big storm created a 'wave train' downstream that has resulted in what will be an unusually cold air mass for so early in the season," Crawford said.
Typhoons are known to have this kind of an impact.
In July, one moderated the heat of summer, while last year another cold outbreak could be traced back to tropical origins, said Matt Rogers, president of the Commodity Weather Group LLC in Bethesda, Maryland.
So when that cold cuts through your coat and freezes your nose solid, just keep remembering, it's all started in the tropics. Maybe that will warm you up.