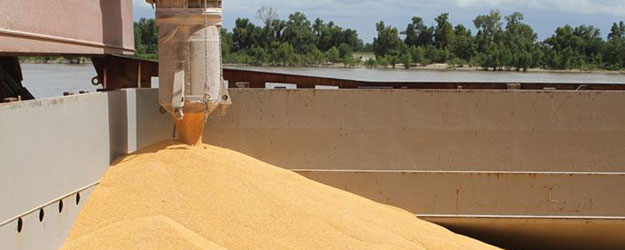 The biggest corn crops ever in the Black Sea region last season have allowed Ukraine and Russia to increase their global share of export markets, Oil World said.
Combined exports from Ukraine and Russia reached a record 19.4 million metric tons from September through March, accounting for 30 percent of total shipments from the world's top five exporters during that timeframe, the Hamburg-based researcher said in an e-mailed report. That's up from a 21 percent market share a year earlier. The Black Sea region's shipments expanded even amid increasing competition from a record U.S. harvest, which the U.S. Department of Agriculture pegs at 353.7 million tons.
"This has become a revolutionary season for producers and exporters of corn in the Black Sea region," Oil World said. "Even the pronounced recovery of U.S. corn production last year could not prevent Ukraine and Russia from garnering additional market share."
Demand growth for the Black Sea region's corn mostly came from the European Union, China and North African and Middle Eastern countries, as well as South Korea and Japan, Oil World said. U.S. exports from September through March rose to 24.1 million tons, more than double a year earlier when crops were hurt by drought, Oil World data show. Shipments from Argentina and Brazil during that timeframe were below the prior year. The U.S. is the world's top exporter, followed by Brazil, Ukraine, Argentina and Russia, according to the USDA's ranking.
Corn futures on the Chicago Board of Trade, the global benchmark, rallied about 20 percent this year amid concern that escalating tension between Ukraine and Russia would curb shipments from the region. The USDA expects production in both Ukraine and Russia to be a record in 2013-14, at 30.9 million tons and 11.64 million tons, respectively.
The Black Sea region's export pace is "considered as proof that the political and economic turmoil in Ukraine left inland logistics and export operations virtually untouched so far this season," Oil World said. "But further developments have to be watched closely as the situation remains largely unsettled."