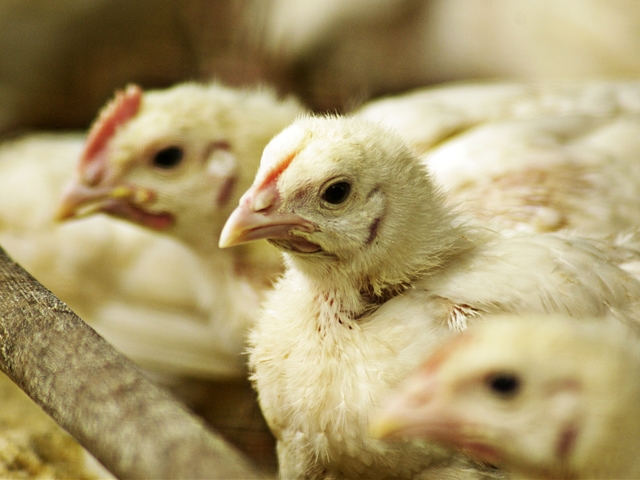 Health-conscious Americans hungry for organic chicken are facing high costs as producers struggle to find the proper food for their birds.
Chickens certified as organic in the U.S. must only receive food grown without irradiation, synthetic fertilizers, certain pesticides and genetically modified organisms. The birds need access to the outdoors, can't be given antibiotics, and like all chickens, can't be given hormones.
The problem: Retail prices advertised for boneless, skinless organic breast meat are averaging $7.87 a pound, more than double the cost of regular chicken, in part because of a shortage of organic feed. Some wholesale buyers are paying more than $10 a pound. Perdue Farms Inc. is importing feed, researching better ways to grow organic feed in the U.S. and seeking to persuade farmers to convert more acres to organic production.
"The number one limiting factor of the growth in organic is feed," said Jim Perdue, chairman of Perdue, founded by his grandfather in 1920.
U.S. organic food sales have risen 11 percent a year since 2005, while farmland certified as organic by the U.S. Department of Agriculture expanded by about 5 percent a year through 2011. Less than 1 percent of U.S. corn and soybeans, the main ingredients for chicken feed, are certified as organic.
Organic feed grade corn cost $12.63 a bushel during the first quarter of this year and organic feed grade soybeans were $25.10 a bushel, according to government data. Conventional corn on the futures market in Chicago cost about $3.88 and soybeans were $9.93.
'Strongest Growth'
Consumers concerned about additives are seeking more food that's less processed, engineered and treated, said Laura Batcha, chief executive officer of the Organic Trade Association.
Organic poultry demand is beginning to "take off," she said. Consumers are looking for organic options on the center of the plate and chicken is seeing the "strongest growth" among organic meat.
In the U.S. about 25 percent of people bought an organic item at least once in a two-week period in the year through February 2014, according to the consumer research company NPD Group Inc., compared with 13 percent in 2004.
The amount of organic food and beverages people consume is also increasing. Per capita "eatings" reached 48 in 2014, up from 44 in 2010 and 29 in 2007, according to NPD.
Organic Crops
Perdue, the largest producer of organic chicken, began offering the birds in 2011 after purchasing Coleman Natural Foods. Under the Coleman brand, Perdue sells organic chicken cuts and cooked sausages and is experiencing "double digit" growth in organic chicken sales, according to spokeswoman Julie DeYoung.
For regular birds, the company mostly buys conventional crops close to both U.S. coasts where it runs elevators. For organic supplies, it has to reach deep into the Midwest to find corn and soybeans, and must haul them longer distances, adding to costs, said Mike Spangler, Perdue's director of organic grain.
Perdue is researching techniques to grow organic corn and soybeans on 70 acres in Maryland and Delaware and passes on tips to farmers. The company is also sourcing organic corn and soybeans from Argentina, India and Turkey, he said.
Over the last four years, the company has sought to forge relationships with farmers such as Luke Howard, owner of Homestead Farms Inc. in Maryland, who grows organic corn and soybeans.
"We have no trouble selling what we produce," said Howard, 50, who started growing organic crops 13 years ago.
Certification Process
One of the barriers to expanding the supply is the certification process. It takes three years for a farm to be certified organic by the USDA. Howard said he wants to expand production, though he would incur losses on the new acres during the transition period.
Americans, used to cheap food, should consider the "true cost of good food" and the "fair price" farmers should receive for producing it, Howard said.
Rivara SA, a Perdue supplier in Argentina, has doubled its land for growing organic corn, soybeans, wheat, canola and sunflower crops since 2009 to about 7,900 hectares (19,500 acres) because of booming demand from the U.S.
'Hot' Market
"The market is very hot," said Diego Rivara, who heads up sales for the family-owned business founded in 1936.
The company began selling organic crops about 18 years ago, and had just a few U.S. customers until about six years ago. Now there are more than 10 buyers clamoring for supplies, and in 2014 about 90 percent of its organic output was committed to buyers before the harvest began.
Demand is "growing so fast" in the U.S., and farmers can't increase product quickly because it takes time to learn effective organic growing practices, Rivara said. Supply won't be able to meet demand for at least the next two to three years, he said.
"There just aren't enough people in the business," said Chellie Pingree, a Democratic congresswoman from Maine who also owns an organic farm and restaurant. "If we had more organic grain, it would be more competitive and we wouldn't all be fighting over the same bag of grain and we could bring down the price."