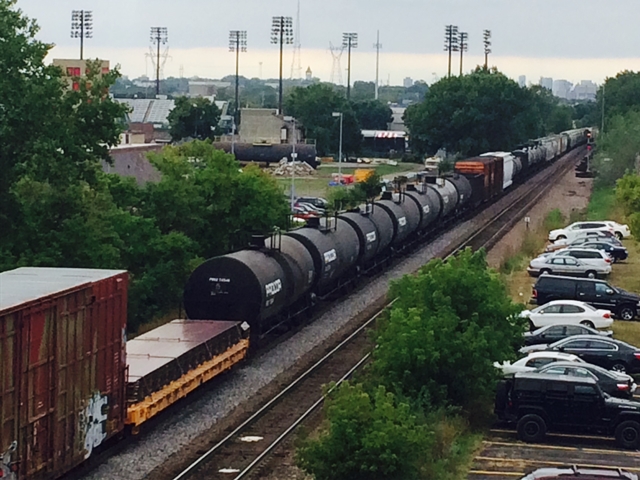 BNSF Railway Co., the carrier owned by Warren Buffett's Berkshire Hathaway Inc., is blocking some shippers from adding tank cars to its system in a bid to prevent a worsening of the gridlock that sparked regulators' ire.
BNSF, which has come under scrutiny this year from the U.S. Surface Transportation Board over late grain deliveries, has told some oil shippers its network can't accommodate more tank cars, said Mike Trevino, a company spokesman. In June, BNSF and Canadian Pacific Railway Ltd. were ordered by the board to report plans for resolving the service disruptions.
While BNSF has said it's spending $5 billion this year to add workers, rail cars and expand track, Berkshire acknowledged in a filing last week that the railroad's service is still "well below" its standards. Compounding the problem is the prospect of a record soybean and corn crop in the U.S., which will put additional pressure on railroads.
The railroad's shipments of petroleum products have jumped 14 percent this year, outpacing a gain in total traffic of 1.7 percent and a 0.4 percent rise in grain cargo, according the Association of American Railroads' weekly data. That has caused complaints from gain and coal shippers that BNSF is favoring crude over their shipments.
BNSF's profit climbed in the third quarter as revenue from agricultural and industrial shipments, including oil, rose. The business accounted for 22 percent of Omaha, Nebraska-based Berkshire's net income in the period, according to a Nov. 7 regulatory filing.
Trevino said there is no systemwide moratorium on taking additional tank cars and those requests are decided on a "situational evaluation" as part of managing the traffic flow.
Oil Production
The railroad's tracks sit on top of North Dakota's Bakken formation, where energy producers are using hydraulic fracturing and other extraction methods to pull crude from the ground in unprecedented volumes. Because pipeline capacity is limited in the area, oil companies have turned to BNSF to ship their product to refineries.
BNSF has worked to allay concerns about the safety of oil shipments by agreeing to buy 5,000 new crude tank cars with thicker steel than the models known as CPC-1232. It has also announced plans to apply a surcharge on an older generation of cars that have been involved in some of the worst accidents.
Reuters reported BNSF's decision earlier.