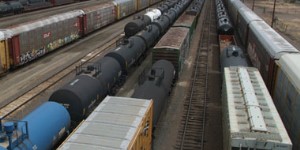 The executive chairman of BNSF Railway is scheduled to meet with agriculture producers in the Red River Valley about the backlog of grain cars in advance of the harvest.
The state Public Service Commission sent a letter to the U.S. Surface Transportation Board earlier this week warning that "conditions are ripe for significant problems" with the 2014 crop.
The PSC cited a July 25 survey showing that BNSF had more than 2,250 overdue cars and a report that Canadian Pacific's customers were waiting an average of 11 weeks for cars. Commissioners say they are "confused and troubled" by reports that more than half of the grain hoppers from both railroads are offline.
Sens. Heidi Heitkamp and John Hoeven will lead the meeting with BNSF's Matt Rose Thursday afternoon in Fargo.