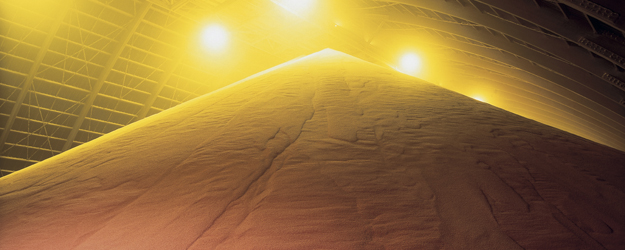 Don't wait too long to book fall fertilizer needs, experts say, because good deals won't last. 

"Prices should bottom out mid-to-late August and then build into fall," says David Asbridge, president, NPK Fertilizer Advisory Service. 

December prices are typically firm because farmers make major purchases for spring as a tax hedge. Here's what Asbridge expects through spring:

Ammonia (82%): The average Midwest retail farm price in late summer will bottom out at $620, below last summer's $760. A $30-per-ton bump is likely by mid-October through November and will hold, falling to a winter low of $630. 

Urea: A price of $450 per ton is expected by late summer, with a slight rise to $460 by year's end. Last year, prices hit $510 per ton but fell to the mid-$440s by fall.

Urea and Ammonium Nitrate 32% (UAN): Late summer will see a price of $380 per ton, up from $350 last year. That will rise to $400 during fall, reducing slightly in winter. 

Diammonium Phosphate (DAP): The late summer price is forecast at $545 per ton. A $30 bump is likely during fall, and weaker prices are expected this winter.

Potash: Expect a late-summer price of $450 per ton. Fall prices might rise a bit. Weaker prices are seen in early 2015. Year-ago prices hit $540 per ton but fell to $460 in January and February when the Russian potash cartel broke up.

Long-term nitrogen prices look even more bearish, says Alan Goldsby, product manager for urea and sulfate, CHS. Even if six of 40 rumored U.S. nitrogen plants are built, U.S. nitrogen capacity would rise 5.2 million units.
---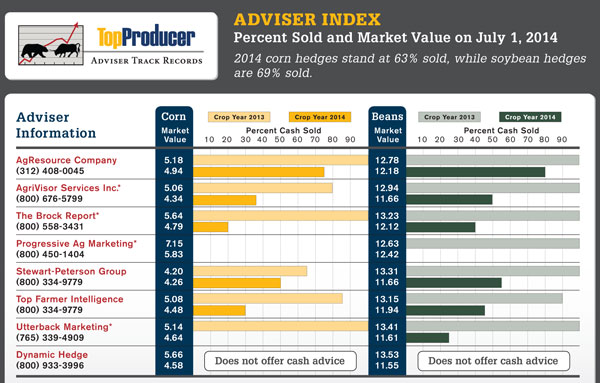 Advisers with no bars remain unsold. *Adviser uses hedge-to-arrive contracts, which do not show up as cash sales until the basis is set. Market value is the average of cash sales, unsold portion plus futures/options value. For methodology, visit www.TopProducer-Online.com. To have your crops sold on the advice of one of these advisers, call (800) 933-3996. If you have any questions or comments regarding the track record information, please contact Mark Soderberg, Tim Smith or Scott Harms of Archer Financial Services Inc. at (800) 933-3996.