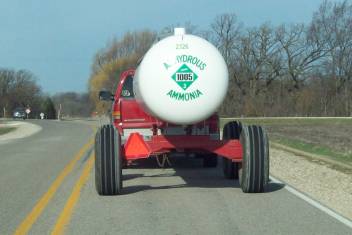 Lows for key crop nutrients are typically set in August, but that's not the case this year. Lows for ammonia and urea won't likely hit until early September, says David Asbridge, president, NPKFAS.



The good news is fertilizer analysts don't expect nutrient price increases for 2015 crops. Other than the possible exception of UAN, producers might even see lower prices. Don't wait too long to book fall needs, though, because good deals don't last.

"Prices should bottom out and then build into fall," Asbridge explains. Prices in December generally are firm because many farmers make major spring purchases around that time, largely for tax-planning purposes. Prices generally decline by January and February to hit winter lows before building into spring.
---
Livestock Market Update August 2014
---
Here's what Asbridge expects for fertilizer prices through spring:

Ammonia (82%): Late summer prices will bottom out at $650, a $20/ton bump this fall. September prices might be lower than mid-August prices by $10 to $15. Winter prices could drop by the same amount "though we may not see much of a winter low this year," Asbridge notes. By early spring, prices are expected to peak between $670 per ton and $675 per ton. The figures represent average Midwest retail farm prices and can vary from market to market.

No supply issues are likely for ammonia. Still, the "overall world situation has tightened up," Asbridge says. Plants have gone offline in Ukraine and elsewhere. "We're not seeing as much additional production in other parts of the world than was expected," Asbridge says.

Urea: Prices will bottom out at $435 by October, down $30 per ton from current price levels. From there Asbridge sees prices climbing through fall. "But there may be opportunities for producers to save money in January and February," he notes. Prices could then reach the $440-per-ton range but climb back to $470 per ton by spring.

Urea and Ammonium Nitrate (UAN) 32%: UAN prices "probably won't change that much," Asbridge says, though they might soften $5 per ton to $10 per ton to $375 by September. He looks for a price of $380 per ton in December; a price $10 to $15 less than that during winter; and prices of roughly $390 per ton for spring. Unlike ammonia prices, UAN prices are slightly firmer this year compared to last year.

Diammonium Phosphate (DAP): "We're seeing DAP prices holding up," Asbridge says. Retailers are sold out, in part because of shipping issues, so they don't have much incentive to cut prices. Asbridge looks for prices of $560 by mid-September, and he says prices might rise to $580 by year's end. Next spring, DAP prices are forecast to be $590 per ton.

Potash: The potash market also faces rail delays, as much product is shipped from Canada to the U.S. Still, Asbridge thinks a modest price decline to $450 by October is possible. Prices should increase to the mid-$460-per-ton level by December. Prices might dip into the $450 range in January and February but climb to $470 per ton by spring.
Year-ago prices were $540 per ton but bottomed out at $460 in January and February under pressure from the breakup of the Russian potash cartel. "There's a chance of rebuilding the cartel, but that won't likely occur by spring," Asbridge says.

Forecasts are contingent on producers planting the same volume of corn acres in 2015 and have a good fall season for fertilizer application, Asbridge cautions. If farmers buy and apply less fertilizer while holding onto grain amid low prices, fertilizer could see a more pronounced price decline this winter. That could create additional buying opportunities.
Spring Surprise
Price outlooks are important, but they come with no guarantees. For example, fertilizer prices early this spring defied forecasts, spiraling upward and staying high as late as June. High prices stemmed from unexpected producer demand, transportation problems and lower-than-expected imports, notes Alan Goldsby, urea and sulfate product manager for CHS.

For the 2015 crop year, the odds of a major price increase are small, Goldsby explains. Yet he cautions that just-in-time fertilizer purchases leave producers vulnerable to supply and price risks.

To avoid such a dilemma, producers can split purchases between late summer and late winter. That allows them to hedge fertilizer price bets during typically low pricing points, says Gary Schnitkey, University of Illinois ag economist.

The fertilizer outlook for producers gets even better in coming years. "The long-term nitrogen price picture is bearish," Goldsby notes. Worldwide, more fertilizer plants are coming online. In the U.S., even if six of 40 rumored nitrogen plants are built, nitrogen capacity would rise by 5.2 million tons. "Within the next 2 1/2 years, we'll see a huge change in the nitrogen market," he says.

Also be mindful of short-term bearishness. "In the mid-1990s, China was a huge nitrogen importer, but now they are a major exporter," Asbridge notes. Last year, China exported 7 million tons of nitrogen, while in 2014 exports might be up to 10 million tons.

Ukraine might affect prices, too, as the fertilizer market has priced in a premium because of the conflict between that country and Russia, Goldsby says. "One-third of Ukraine's nitrogen industry is down," Asbridge adds. At the same time, perspective is important: Ukraine represents a fraction of world exports.
---
Want more? AgWeb readers are sharing fresh marketing insights every day. Click here to join the conversation, or to start your own.