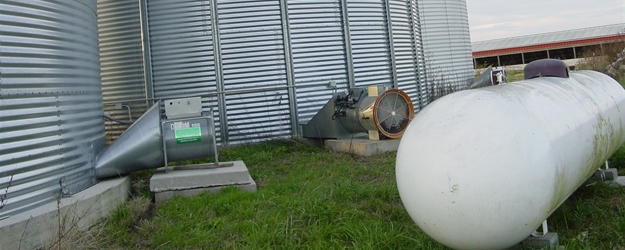 Will last year's quadrupling of propane prices be repeated in the coming corn-drying season? Some experts aren't ruling out déjà vu in propane markets, depending on how key variables play out.

They advise farmers to consider booking their drying needs soon while prices are moderate.

"Propane inventories in the Midwest are still just incrementally better, well below the five-year average," says Justin Dreckman, energy division vice president at United Cooperative in Beaver Dam, Wis. This year, 80% of his customers booked propane needs by early August, compared to fewer than 40% a year ago.

Ironically, the fact that more farmers are booking early is one factor that has pushed prices 10% to 15% above year-ago levels. At the same time, propane production at U.S. natural gas plants is 150,000 barrels per day higher than a year ago.
---
How to Rebuild the Cattle Herd
---
Sharp regional differences remain in the propane market, U.S. Energy Information Administration (EIA) data show. By late summer, U.S. supplies rose above the five-year average for the first time since winter. Yet in the Midwest, inventories were below year-ago levels and more than 3.6 million barrels below the five-year average.

"Last year was the perfect storm," says Matt Kumm, propane marketing manager for CHS. Leading causes included the combination of a record corn crop and record cold in the Heartland. Other factors were at play, too. Tight access to railways resulted from heightened oil industry demand and a rail car shortage, and there's no quick fix for either challenge.

Because the market has changed, farmers can no longer rely on just-in-time deliveries.

"It's time for farmers to invest in propane storage," Kumm advises. Investing in propane infrastructure allows producers to buy and take delivery of propane from April to September, when the input is typically cheapest.

Meanwhile, production of natural gas and oil, both feedstocks for propane, is soaring in the U.S. As a result, natural gas prices have dropped 38%, from $6.18/million Btu between 2001 and 2009 to $3.81 between 2009 and the present, according to Rabobank. Propane hasn't fallen by a comparable amount because of logistics, Dreckman says.

"Propane supplies are higher, they just aren't where and when they need to be," he explains. That results in higher transportation costs.

A "lot of nervousness" remains in the propane marketplace, which has added to premiums, notes Chuck Springman, energy manager for CHS Eastern Farmers in Brandon, S.D. Demand had softened from Gulf exporters, so more product has been brought to the Midwest.

"That's absolutely good for farmers, but the situation can change quickly," Springman explains.
Changes in the propane market suggest producers need to adjust how they manage their energy supplies, in his view. Dreckman advises producers to treat all energy, including propane, similar to the way they treat agronomic inputs—"all from the financial point of view."  
---
Want more? AgWeb readers are sharing fresh marketing insights every day. Click here to join the conversation, or to start your own.