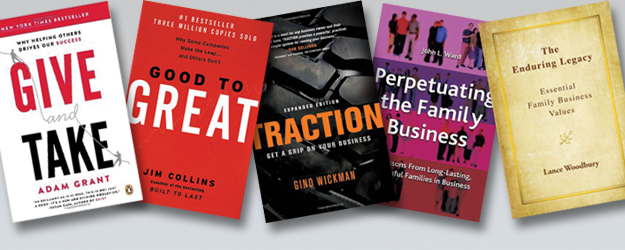 Inspiration to move forward with your family's succession plan 
Proper succession planning is much more about thinking than action. Once you know what is important and what you hope to achieve, the process becomes much simpler.

A good way to clarify your goals and find examples of others' succession planning triumphs is by reading good business books. 

"You are only going to be as smart five years from now as you are today based on the people you associate with and what you read," says Johnne Syverson, a family business adviser with Transition Point Business Advisors. "I encourage all farmers to read books for insight during their succession planning journey."

Syverson, along with Dick Wittman, Idaho farmer and president of Wittman Consulting, and Joe Kluender, president Farm Family Dynamics, provided attendees of the December Legacy Project 101 Workshops with a list of their favorite reads. Here is a sampling of those books.
"The Enduring Legacy: Essential Family Business Values" 
By Lance Woodbury

Succession planning oftenfocuses on passing financial assets. But Lance Woodbury, family business consultant and member of the Farm Journal Legacy Project Advisory Team, knows furthering a family's legacy requires focusing on values. He offers 20 values that capture the essence of today's successful family businesses.
"Traction: Get a Grip on Your Business" 
By Gino Wickman

Farmers, just like other business leaders, face common frustrations—personnel conflict, profit troubles and poor growth. This easy read explains how owners can strengthen six key components of their operation. Author Gino Wickman also details when and how you should evaluate your operation and goals.
"Give and Take: Why Helping Others Drives Our Success"
By Adam Grant

While passion, hard work, talent and luck are commonly seen as the main drivers to success, author and professor Adam Grant argues today's success is dependent on how you interact with and treat others. Through reading this book, you will identify if you are a taker, matcher or giver. You'll also learn how to become a successful giver.
"Perpetuating the Family Business" 
By John L. Ward

What makes a family business stand the test of time? Author John L. Ward offers best practices of successful and long-lasting families in business, including Levi-Strauss, Ford Motors and The New York Times. He identifies the common phases of family businesses and provides 50 lessons for family business longevity.
"Good to Great: Why Some Companies Make the Leap ...And Others Don't" 
By Jim Collins

From more than 1,400 companies, Jim Collins and his research team identified 11 companies that made the leap from mediocre to great results and sustained those high levels for at least 15 years. This book analyzes the people, thoughts and actions of these successful companies. Collins discovers common traits in the leaders of these companies, such as being humble and focused on doing what's best for the company. You'll learn how you can emulate the values and principles of these companies on your farm and that the people on your team are far more important than accomplishments. 

Win a Set of These Books
Farm Journal is excited to provide a set of these five books to two lucky readers. There are two ways to win:

Visit www.facebook.com/FJLegacy and share the post: Legacy Project Book Giveaway.

Don't have a Facebook account? Provide your contact information via an online form at 
www.FarmJournalLegacyProject.com/book-giveaway.

The winners will be chosen at random on March 10. Don't forget to share this with your friends! (Editor's note: This promotion is in no way sponsored, endorsed or administered by or associated with Facebook.)