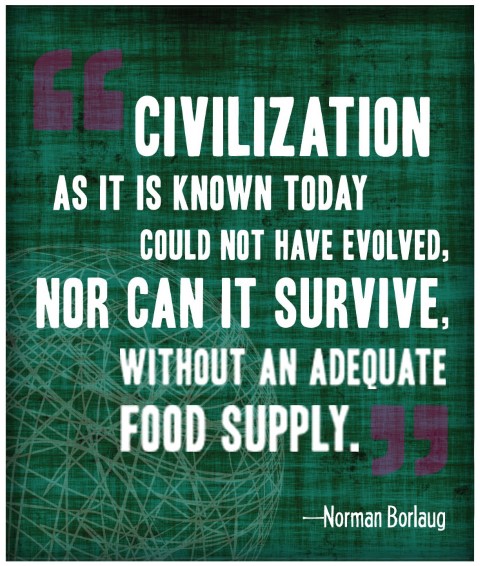 Next month, Norman Borlaug would have been 100 years old. The Nobel Peace Prize winner's biotech legacy lives on in his granddaughter Julie Borlaug, associate director for external relations, Norman Borlaug Institute. She is taking a personal path in advocating ag technology to help feed the world.

"My grandfather had a lifelong passion for feeding the hungry and miserable ... and he never faltered," Borlaug said today at the Bayer CropScience Ag Issues Forum, ahead of the 2014 Commodity Classic in San Antonio, Texas. "First and foremost he was a scientist. He was known for being bold and quick to act. He was fierce on innovation. And he was a supporter of biotechnology, just as I am.

"However, he was not the best communicator," Borlaug notes. "Scientists like my grandfather are better at doing science than talking about it." Borlaug gives the example of her grandfather explaining what a genetically modified organism (GMO) is, and how he once stated: GMOs are not witchcraft.

"Why would you start a statement with a negative?" Borlaug asks. "We used to think we could win the day with science alone and scientists doing the talking, but the reality is we need to change the way we talk about technology in agriculture."

More emotion. In the past, the ag industry's arguments to the general public about biotechnology have been defensive instead of engaging. "The public feels we are adopting biotech for the benefit of big ag. They believe food is grown in the grocery store and they have never seen a shortage in their lifetime. We can't be defensive about their lack of knowledge," she says.

She suggests farmers take a more emotional approach. Talk about the personal side of agriculture, how biotechnology helps with disease and reduces costs and provides for a better product, Borlaug says. Talk about struggling with drought and how new technology saves water and helps produce a crop that may not be grown without it.

"I like to give the story of golden rice in Asia, and how this rice with vitamin A in it prevents millions of children from going blind each year," Borlaug say. "Do GMO opponents really want to see children go blind?"

She also tells people in personal conversations what GMOs are not—they are not processed food, they do not cause obesity. "I tell them there is no such thing as certified organic," Borlaug says. "They are shocked."

In essence, Borlaug continues her grandfather's work to reduce hunger and poverty by challenging the conversation on technology in agriculture and by having those tough conversations with anti-biotech consumers. She wants farmers to use emotion and tell it to the public straight.

"It is time to change the paradigm," Borlaug adds. "Scientists in ag and the media need to be clear about GMOs. We must remember we are talking to those outside of agriculture who have never been on a farm. We are talking to moms who believe everything on Facebook. We are talking to consumers who are anti-corporate...except when it comes to their apple iPhones."