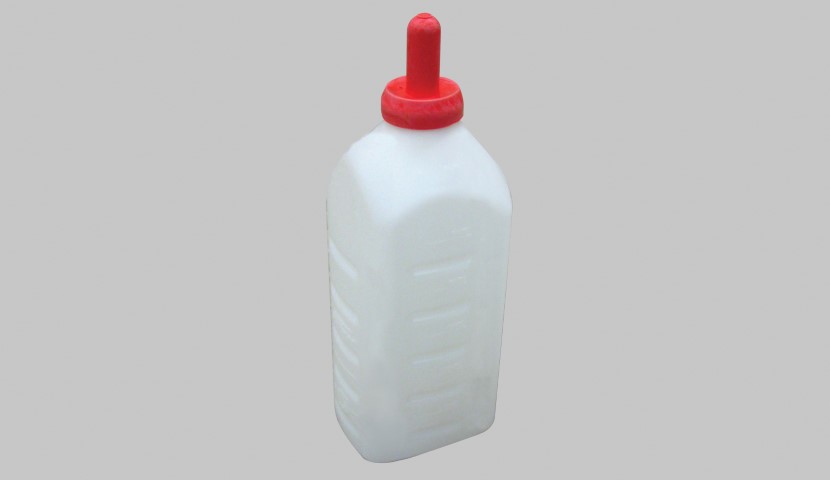 Industry leaders Calf-Tel and Land O'Lakes Animal Milk Products have partnered together to introduce a new 4-quart bottle. This bottle provides dairy producers a convenient way to deliver more nutrition to calves as part of a full potential feeding program.
"The new 4-quart bottle meets the needs of many dairy producers who are adapting a full potential feeding program," says Larry Van Roekel, director of marketing, Land O'Lakes Animal Milk Products. "The basis of the full potential program is to provide calves with increased nutrient intake during the preweaning phase, and the 4-quart bottle will make it easier for producers to achieve that goal by increasing the volume fed at each feeding."
"Whether it's providing proper housing or adequate nutrition, the first few weeks of a calf's life can influence future milk production," says Joe Weber, marketing manager, Hampel Corp. "We're excited to partner with Land O'Lakes Animal Milk Products, a company with a deep understanding of calf nutrition, to bring this innovative new product to market."
Using a 4 quart bottle allows for feeding a higher level of nutrition for calf raisers who find feeding more than two times per day impractical within their management or labor situation.

But, potentially the biggest advantage is the ability to provide more nutrition to calves at an earlier stage in life. Intake has proven to be critical for a calf to achieve its full genetic potential, leading to lifelong health and milk production benefits. Calves receiving more milk or milk replacer prior to weaning have been shown to produce up to 3,000 additional pounds of milk in their first lactation.
The 4-quart bottle can be ordered from Calf-Tel distributors. A list of distributors can be found here: http://www.calftel.com/dealer-locator/. For more information, call 262-255-4540 or email [email protected]
Source: Hampel Animal Care and Land O'Lakes