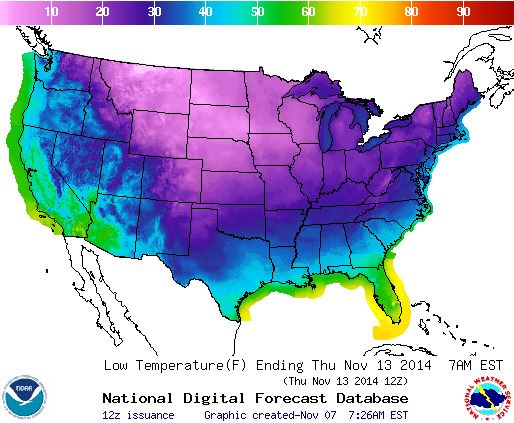 The coldest air in the Northern Hemisphere typically stays put over the North Pole. But occasionally, it gets "dislodged" and pushes frigid air much further south into Canada and the U.S. Such is the case starting next week, beginning in the Rockies and Northern Plains on Monday, Nov. 10 and spreading through much of the U.S. as the week progresses.
By midweek, areas such as Chicago and Minneapolis could have daytime high temperatures that don't even hit the freezing mark. And NBC Chicago Storm Team meteorologist Andy Avalos has predicted snow in the Windy City next Tuesday, ranging from 0.5 inches in around Kankakee to as much as 4 to 6 inches around the Wisconsin/Illinois border on the ground late Monday night into Tuesday morning.
AccuWeather long range expert Paul Pastelok says the cold snap will affect large portions of the country.
"Areas from the northern and central Plains to the Great Lakes, the upper Gulf Coast and the Appalachians will feel significant impact from the arctic outbreak," he says. "It is possible single-digit low temperatures occur in parts of the northern Plains and upper Midwest, away from the Great Lakes with temperatures plunging to 20 degrees below average in parts of the South."
Add in gusty winds, and widespread wintry windchills are likely across much of the upper Midwest by Wednesday morning, according to The Weather Channel, including Bismark, N.D. (1°), Pierre, S.D. (5°), Omaha (12°), Kansas City (18°), Minneapolis (6°), Chicago (12°), Indianapolis (16°), Detroit (17°) and Pittsburgh (22°).
Temperatures across the central and eastern U.S. are expected to remain below average through the end of next week.
Despite the abrupt cooling next week, forecasters are, for the most part, not signaling for a harsh 2014-15 winter – at least not yet. NOAA's most recent winter forecast puts most of the country into an "equal chance" category. That means that as of now, "there is not a strong enough climate signal for these areas to make a prediction, so they have an equal chance for above-, near-, or below-normal temperatures and/or precipitation," according to NOAA.
Stay on top of emerging weather news and analysis, plus dive into more than a dozen maps that track temperature, rainfall, soil moisture, frost warnings and much more at http://www.agweb.com/weather/.