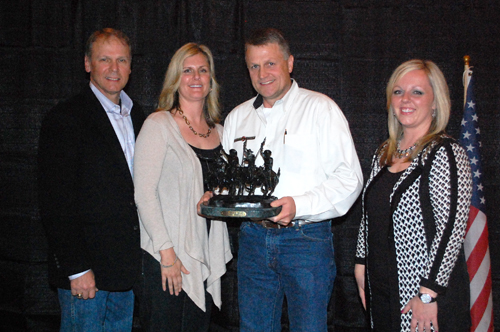 Five of the most elite cattle producers and Brangus breeders were honored by the International Brangus Breeders Association (IBBA) for their outstanding achievements and their contributions to the Brangus breed as well as the beef cattle industry.

The Pioneer Award recognizes an IBBA member, past or present, for his/her service, loyalty and contributions to the Brangus breed. Jerry Morrow served as IBBA's Executive Vice President from 1980 to 1988 and had an influential role in the association. Several advancements were initiated under his leadership including the first National Junior Brangus Show, first National Brangus Sire Evaluation, first Brangus bull sale at the National Western Livestock Show in Denver, and the first of any breed to have ultrasound enhanced carcass expected progeny difference (EPDs).

David Vaughan also received the Pioneer Award for his influence both domestically and internationally. Vaughan was the owner of Salacoa Valley Farms in Fairmount, Ga., which sold to the Seminole Tribe of Florida. He served the IBBA in several capacities including a term as president in 2007-2008, and he was awarded the Brangus Breeder of the Year award in 2005 for his progressive ideas and successful operation.

Steve Densmore of Bryan, Texas, was one of two recipients of the Breeder of the Year Award. The substantial amount of carcass data the IBBA has received on fed Brangus steers is, in part, due to Densmore's dedication to the Brangus breed. He has a passionate devotion to the Junior Brangus Association and was the recipient of the Georganne Myers Award in 2011 for his support of the Junior program. Densmore also served on the IBBA Board of Directors from 1997 until 2003 and was elected President in 2002. He was elected to another three-year term from 2010 to 2013, which collectively totals 10 years on the IBBA board.

Mike Coggins was another recipient of the Breeder of the Year Award for his progressive ideas and outstanding seedstock operation. Coggins is a truly progressive breeder who produces some of the best genetics with the latest technologies available. Coggins owns Blackwater Cattle Company in Lake Park, Ga., where he oversees a purebred Brangus cattle business along with a diversified agriculture operation. He is very knowledgeable about all sectors of the industry and understands the needs of commercial cattlemen, seedstock producers and consumers alike.
The Commercial Producer of the Year award was presented to Russell Trefney of Weimar, Texas, in recognition of his achievements and success of incorporating Brangus genetics in his commercial cattle operation. A fifth generation cattleman, Trefny found Brangus to be the best breed for his crossbreeding operation in Central Texas in order to maintain a consistent product that resulted in higher quality carcass grades at the harvesting stage, making it more profitable for him to retain ownership through the feedlot.

Award recipients were presented their awards Friday, March 7, 2014, by the IBBA in Houston, Texas, at the IBBA annual convention. Award recipients are nominated and selected by the IBBA Awards Committee. Please visit http://www.gobrangus.com for more information.

Source: International Brangus Breeders Association