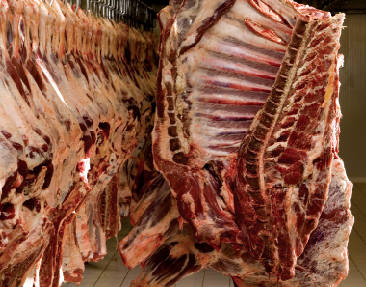 When Brazilian beef producer JBS SA tried buying U.S.-based National Beef Packing Co. and Smithfield Beef Group Inc. in 2008, it was met with a tide of opposition.
Attorneys general in 13 U.S. states filed suit against the Sao Paulo-based company, alleging the buyout of National Beef, the fourth-largest packer in the U.S., would threaten competitive pricing by creating an oligopoly led by JBS, Tyson Foods Inc. and Cargill Inc. A campaigning Hillary Clinton told the South Dakota daily Rapid City Journal that she opposed the Smithfield takeover and would "fight consolidation."
The Batista family that controls JBS wasn't discouraged. It scrapped the National Beef acquisition, completed the Smithfield purchase and turned JBS into a global food empire -- all with the help of state bank support. With trailing 12-month revenue of 110 billion reais ($45 billion), JBS eclipsed Vale SA this year as the biggest company in Brazil after state-owned Petroleos Brasileiros SA. It's also made five of JBS founder Jose Batista Sobrinho's six children billionaires.
"They run a tight business," said Revisson Bonfim, head of emerging market analysis at Sterne Agee & Leach in New York. "They come in where there's a lot of waste and know how to dig the waste out. Acquisitions have always been in their DNA, but it wasn't until they moved into the U.S. that it took off."

Hidden Billionaires
After making more than $17 billion in acquisitions, JBS now has operations in five continents and 21 Brazilian states. The Batistas, who aren't related to Brazil's erstwhile commodity billionaire Eike Batista, are riding the biggest stock rally on Brazil's Bovespa index this year. JBS has jumped 53 percent in the past six months, fueled by surging beef prices and Russia's lifting of a ban on Brazil meat-processing plants.
The five Batista siblings -- Joesley, Wesley, Valere, Vanessa and Vivianne Batista -- have an equal interest in J&F Investimentos SA, the holding company through which they and other family members control JBS, as well as investments in banking, pulp, cattle, cleaning products and construction. None of them have ever appeared as individuals on an international wealth ranking.
A spokesman for JBS said the siblings declined to comment for this story and answered other queries about the company in an e-mail. A sixth sibling, Jose Batista Junior, sold his position in the business and pledged to spend 100 million reais to run for governor of Goias state, though he later pulled out of the race to make way for a fellow member of the Democratic Movement party.

First Acquisition
Their father, Jose Batista Sobrinho, started the family food empire in the 1950s, as president Juscelino Kubitscheck implemented his "five years in fifty" plan to fast-track construction in Brasilia, the nation's new capital. Batista, who started out by butchering five heads of cattle a day, helped supply meat for the city's construction workers.
He made his first acquisition -- a meatpacking plant in Planaltina -- in 1968, before setting his sights outside Brazil. The country's development bank, BNDES, approved 287 million reais in loans for Batista ahead of his buyout of Swift & Co.'s Argentina operations in 2005. When JBS sold shares in a public offering in 2007, the bank's investment arm approved 1.1 billion reais in equity to help purchase Swift, then the third-largest beef and pork company in the U.S. Treasury-owned BNDES heralded the creation of a "Brazilian multinational."

Public Offering
More acquisitions followed, including Pittsburgh-based Pilgrim's Pride, Canada's XL Foods, and four Brazilian meat processors. JBS acquired dairy company Vigor in 2009 as part of its buyout of Grupo Bertin SA. The bank converted 3.5 billion reais of JBS local bonds into equity in 2011. BNDES approved 6 billion reais in equity and 2.4 billion reais in loans in a decade.
"The beef sector was disorganized, broken up, informal," a BNDES spokesman said in an e-mail. The environment "didn't let Brazil take advantage of competitive advantages of the sector, a relevant job creator."
As Brazil pares back the state bank's role to avoid a sovereign rating downgrade, JBS is looking to raise new funds in the market. Wesley Batista told reporters on Nov. 13 that the JBS Foods unit could make an initial public offering in the first quarter of 2015. The company canceled a bond sale on Dec. 8 due to Brazil's stalling economy.
Batista, 81, brought in his sons as board members in 2005. Brothers Joesley, 42, and Wesley, 44, increased their roles throughout the expansion before taking the helm from their father, as chairman and president of JBS.

'Hard Knocks'
Rich Vesta, who headed JBS's operations in the U.S. until 2010, said support from BNDES shouldn't detract from the work the brothers put into the business.
"Wesley started working in the slaughterhouse at a young age," said Vesta, in a phone interview from Calgary, where he's opening a plant for Harmony Foods Corp. "They learned the business in the school of hard knocks, that's for sure. Wesley is one of the hardest workers I've known."
Vesta says the group's consolidation "salvaged a lot of businesses," including Smithfield Beef, which he headed before JBS bought it.
The Batista brothers are experts at introducing efficiencies at newly acquired slaughterhouses, which rely on manual labor, Vesta said. Workers increase profit margins by being the fastest at carving hanging carcasses into salable cuts. JBS has more than 200,000 workers and the capacity to kill 100,000 cows, 72,000 hogs and 13 million birds every day.

Tissue Disorders
Slaughterhouse work can take a toll on employees. Occurrences of mental and soft-tissue disorders are three times higher than in other industries, according to labor prosecutors. One JBS worker almost lost an arm trying to fix a congested blow tank in 2012 in Mato Grosso state. Police were called to his home in January after he tried sawing off the paralyzed limb like gristle from a carcass. JBS said it wasn't at fault.
"It's tense," said Elias Vasconcelos da Costa, who took home about $750 a month at a plant in Mato Grosso deboning as many as 50 carcasses per hour. "You have to keep up."
Brazilian courts rarely rule in favor of employers in labor claims that can linger for years. In one recent case, the superior tribunal ordered JBS's Seara unit to pay 10 million reais to workers who were fired after demanding breaks in Santa Catarina state.

'Frenetic Rhythm'
Judge Alexandre Agra cited a "frenetic rhythm" amid temperatures that reached near-zero and a lack of proper pauses. The company didn't respond to a request for comment on the case.
JBS also has been accused of predatory behavior. Senator Katia Abreu, the former head of Brazil's chamber of agriculture, accused the company of "silting up a monopoly," and said BNDES support is detrimental to competition. In a speech before congress, she accused JBS of misleading consumers with an advertising campaign that encouraged shoppers to opt for its Friboi brand because of its federal inspection seal, even though more than 200 other slaughterhouses have passed inspections.
At least one of the beef billionaires didn't like Abreu's remarks. In November, Joesley Batista met with President Dilma Rousseff's chief of staff, Aloizio Mercadante, and lobbied against Abreu as a potential agriculture minister because of her criticism of the company in congressional speeches, according to a government official with knowledge of the matter who asked not to be identified because the meeting wasn't public. Batista's worries won't affect Rousseff's choice, the person said.

Biggest Donor
JBS, which was the biggest campaign donor this year for the re-election of Rousseff, as well as for the loser, Aecio Neves, denied it's using political influence to lobby against Abreu. The company said the existence of competition is proof of a free market.
BNDES, which owns shares in more than 130 companies, retains a 25 percent stake in the surging food company even as it becomes the country's biggest campaign financier. While state companies aren't allowed to finance campaigns, BNDES says there is no ban when state firms are minority shareholders.
"There are more than 1,500 slaughterhouses operating in the country," JBS said. "The company doesn't agree that the bank's participation in its capital interferes in competition."
State bank Caixa Economica Federal also has a stake in JBS.
J&F companies led by JBS have financed almost a third of representatives in the chamber of representatives, and doled out a record 387 million reais in donations in 2014 elections, according to Brazil's electoral tribunal. The scope of its campaign finance, aimed at supporting "democratic debate," reflects its size as Brazil's biggest company, JBS said.

'Political Interface'
"All donations by the company rigorously follow Brazil's electoral laws," JBS said in an e-mailed response.
Academics question if the Batista billionaires would have such fortunes had the country's development bank not helped fund their acquisition spree.
"The company has invested a lot in the management of the political interface," said Sergio Lazzarini, co-author of Reinventing State Capitalism: Leviathan in Business, Brazil and Beyond. "What's extraordinary is the amount of BNDES money and the aggressiveness of the expansion. The question is: would JBS have had this success without the support of state capital? Probably not."