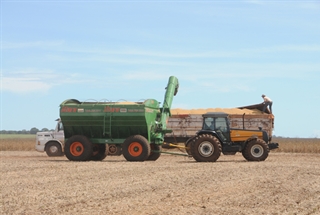 Soybean output in top exporter Brazil is poised to reach a record high as farmers expand planting over other crops, the government forecaster said.
Growers may reap 88.8 million to 92.4 million metric tons of the oilseed used in everything from animal feed to fruit beverages in the 2014-2015 season, exceeding last season's 86.1 million tons, Conab said today in its first forecast for the crop. The U.S. Department of Agriculture had estimated a 91 million-ton crop in a Sept. 11 report.
"We're continuously increasing our production and our productivity," Agriculture Policy Secretary Seneri Paludo told reporters in Brasilia after the forecasts were released.
Farmers probably will increase soy planting by as much as 5.5 percent, mostly over areas previously used for corn as the oilseed is still a more profitable option even after a 28 percent price slump this year. Corn output is set to fall 1.2 percent to 4.1 percent to 76.6 million to 78.9 million tons.
Planting for the 2014-2015 crop started this month and will run until December. Most harvesting occurs January to April.
"Soybean is still profitable in most of the country," Paludo said. "Corn is a different reality."