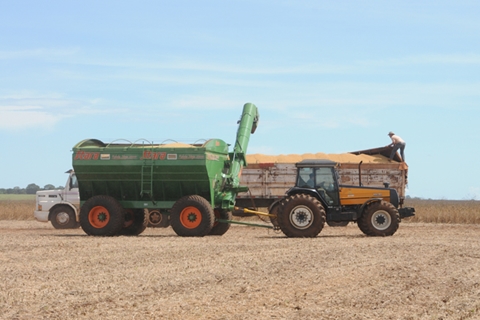 Soybean growing areas in parts of Brazil and Argentina benefited from recent rainfall while Paraguay's crop may be smaller than previously expected because of drought stress, Oil World said.
Brazil experienced "favorable rain" last month in the states of Mato Grosso do Sul, Sao Paulo and Santa Catarina, while Rio Grande do Sul saw a surge in plantings in the week- ended Dec. 4, the Hamburg-based researcher said. Other states, including top grower Mato Grosso, are still contending with dryness in some areas. Eastern and northern areas of Argentina, including Buenos Aires province, benefited from rain in the past two weeks while central areas including Cordoba are still dry.
Price declines in soybeans recently reflected "largely favorable weather conditions and good planting progress in South America," Oil World said. "The partly dry conditions in some important growing areas are currently ignored."
Soybean futures on the Chicago Board of Trade, the global benchmark, fell to $9.8375 a bushel on Dec. 3, the lowest in five weeks, before rebounding about 6 percent. They had risen 15 percent in October in part on dryness concerns in Brazil and shipping delays in areas of the U.S. Brazil is expected to be the world's second-biggest soybean exporter this season, after the U.S., followed by Argentina and Paraguay, according to the U.S. Department of Agriculture.
Farmers in Brazil have finished planting about 92 percent of the country's crop, researcher AgRural said Dec. 5. Argentine farmers had sown 11.2 million hectares (27.7 million acres) as of Dec. 4, behind last year's pace of 11.6 million hectares, Oil World said, citing the Buenos Aires Grains Exchange.
Drought Stress
Soybean production in Paraguay may be 500,000 to 1 million tons smaller than a previous estimate of 9.5 million tons, Oil World said. Yields on about a quarter of the country's soybean area may be 30 percent to 50 percent lower than last year "as a result of drought stress occurring during critical phases of development in preceding weeks," according to the report.
Dependence on the U.S. for soybean exports remains "unusually high" amid tight supplies currently available out of South America, Oil World said. Brazil's exports in November fell to 177,000 tons, down from 648,000 tons during the same month last year. Increasing demand from China and Europe helped send U.S. exports to a record 10.8 million tons last month, according to the report.