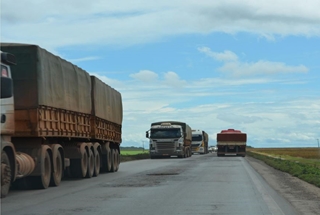 Brazil's government will start fining truckers as a strike now in its ninth day threatens Latin America's largest economy with food and fuel shortages.
The police will fine drivers who block highways as much as 10,000 reais ($3,470) per hour, Justice Minister Jose Eduardo Cardozo told reporters in Brasilia. He said 97 road blocks remain, down from a peak of 119 on Wednesday, as truckers protest in seven states over fuel prices and other costs.
Cardozo said it's impossible to calculate the economic impact of highways blocked since Feb. 18. Companies including food processor BRF SA and JBS SA report that they've cut production, and local leaders are concerned gas pumps will run dry as fuel trucks remain stuck in the strike.
Government officials presented a proposal Wednesday after meeting industry and transport representatives to maintain current diesel prices for six months, extend cheap financing for truckers and approve a law regulating working hours, General Secretary Miguel Rossetto told reporters Wednesday in Brasilia.
Some groups had sought a fuel-price cut and wanted the government to set a floor for freight rates, according to National Transport Command, an organization of truckers. While some unions accepted the proposal, other groups vow to continue the strike. Brazil's government won't consider reducing fuel prices, Cardozo said.
'Zero Profit'
"The government's threats just strengthen our resolve because it shows that they're understanding the economic impact," National Transport Command representative Ivar Luiz Schmidt said by telephone from Brasilia. "The movement will continue."
Schmidt said the government's data only count federal highways, and with state roads there are at least 150 road blocks.
In Santa Catarina, a major chicken and pork producer and one of the hardest-hit states, at least 13 road blockages remained, down from 23 Wednesday, the federal highway patrol said. In Mato Grosso, Brazil's biggest soybean producer, there are still 10 roadblocks. Most of the farmers there are at risk of running out of fuel in five days, which would delay the harvest, said Ricardo Tomczyk, president of agriculture group Aprosoja. About 20 percent of them already lack diesel to run their tractors.
Abear, the Brazilian airline association, said Wednesday in an e-mail that some airlines are carrying additional fuel on flights to affected areas to ensure they can get back.
Spilled Milk
Renato Bonadiman, mayor of the southern city of Seberi, population 11,200, said Wednesday he'd have to stop school buses because they're running out of fuel. He said the main economic activities in the region -- corn, soy and milk production -- are grinding to a halt.
"We have 900 families that produce milk, and they're having to throw away their product," he said as he stood at the entrance of the Transport Ministry in Brasilia.
Rio de Janeiro-based Vale SA, the world's largest iron-ore producer, said Thursday that its diesel costs rose 15 percent to $141 million in the fourth quarter compared to the previous three months because Brazil energy prices haven't benefited from the decline in international markets.
"Falling oil prices had a limited positive impact on our fuel costs, since prices of diesel in Brazil are not directly correlated to international oil prices," Vale said in its fourth-quarter financial results release.