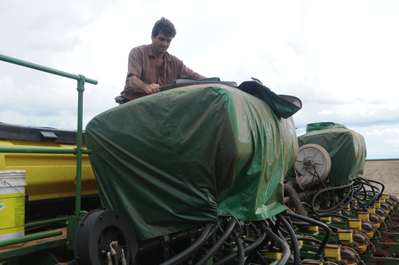 Brazil's safrinha soybean crop, the smaller of two annual harvests, will probably stop being planted in Mato Grosso because of "very poor results," Oil World said.
Farmers in Mato Grosso, the top soybean producing state, only harvested about 300,000 hectares (741,000 acres) of safrinha soybeans, which were sown in the same fields after crops from the main oilseed harvest were collected in January and February, Thomas Mielke, executive director at the research company, said by phone today from Hamburg. While farmers initially planned to expand safrinha area to almost 1 million hectares, only about half that was sown, he said.
"It was a failure," Mielke said. "This is probably the end of the safrinha soybean production in the Mato Grosso area. They started this just a few years ago, but this year was the first year where it was planned to be expanded quite considerably. It simply doesn't work planting the same crop on the same field."
Brazil, the world's second-biggest soybean exporter, probably harvested 85.7 million metric tons of soybeans in the 2013-14 season, less than a previous estimate of 86.3 million tons, the government's agriculture agency Conab said Aug. 7. Production fell because average yields declined 3.4 percent from the previous year, even while the area expanded to a record 30.1 million hectares, Oil World said in an e-mailed report.
Crop Disease
Farmers plant soybeans for Brazil's main harvest in September, and most crops are collected from January through April. Crop disease, especially Asian rust fungus, means "there is concern about very little growth in average yields in Mato Grosso during the past 12 years," Oil World said.
Excess rain in Brazil also delayed maturity and harvesting of the country's safrinha corn, eroding crop quality, Oil World said. Wetness may also increase disease pressure on newly planted soybeans in the next few months, it said.
Brazil's soybean planting for the next season may still increase by 1 million to 1.5 million hectares because the crop remains the more profitable option after both soybean and corn prices declined, Oil World said.
To contact the reporter on this story: Claudia Carpenter in London at [email protected] To contact the editors responsible for this story: Claudia Carpenter at [email protected] Whitney McFerron, Sharon Lindores