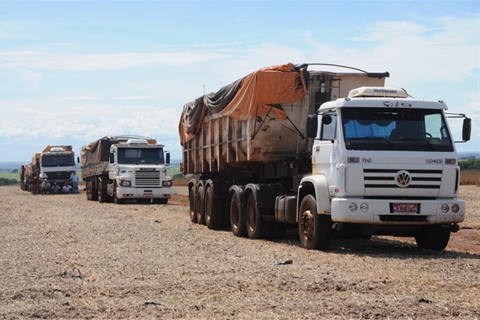 Road blockades by striking truck drivers in Brazil expanded to more than 100 locations Wednesday, halting commercial shipments and further disrupting an economy battered by corruption scandals, drought and slumping commodity prices.
Thousands of truckers are participating in the nationwide protest against higher diesel prices, taxes and tolls. The drivers have been using their rigs to block highways in 10 states for a week, shutting down the road network Brazil relies on to transport most of its goods, according to data from the Brazilian Federal Highway Police website.
The strike is slowing output at companies including food processors BRF SA and JBS SA, creating another headwind to Brazil's economy, which is already forecast to shrink this year.
"The blockage may impact the balance of trade in the short term," brokerage firm Lerosa Investimentos said in a report. "It adds to a worsening growth outlook."
BRF, Brazil's biggest poultry producer and exporter, reduced output by about 15 percent after suspending chicken slaughtering in two plants in Parana state.
Blocked roads are restricting corn and soybean supplies used as animal feed, while stockpiles of refrigerated products are piling up for lack of transportation.
JBS halted chicken and pork production in eight plants because of the lack of animal feed.
Oil Prices
While global oil prices fell 38 percent since November, fuel prices have been rising in Brazil as the state-run oil company Petroleo Brasileiro SA, known as Petrobras, seeks to generate more cash and the federal government raises taxes to reduce the widest budget deficit in more than a decade. Diesel prices climbed as much as 15 centavos a liter this month after the government revived a tax on fuel as part of its efforts to restore confidence in its fiscal discipline.
The blockages are causing food and fuel shortages in some regions. "We'll have to halt school transport due to a lack of gasoline," Renato Bonadiman, the mayor of Seberi, Rio Grande do Sul, told reporters in Brasilia after joining a meeting between government officials and industry representatives. "Milk producers are having to throw their product away."
Soybeans Paralyzed
Only 33 of 950 expected trucks carrying mostly soybeans arrived Wednesday at the Port of Paranagua, in Parana state, the departure site for about 15 percent of Brazil's soy exports. Ship loading wasn't affected because the port has inventory for about four days, a press officer from the port authority said by phone.
The transport of soybeans from Mato Grosso state, Brazil's biggest grain producer, is "completely paralyzed" because of the strikes, Blairo Maggi, a senator and owner of the Amaggi Group, a farming and trading company, told reporters in Brasilia. "Some farms are running out of fuel."
Truckers have been organizing themselves without an obvious leader for negotiations, according to Marcio Lopes de Freitas, president of the Brazilian Coop Organization, which also participated in discussions with government officials.
"We're trying to find solutions that don't have a fiscal impact for the government, while creating conditions for the truckers to get Brazil flowing," Freitas said.
Operations were running normally Wednesday in the Port of Santos, through which pass about 30 percent of the country's soybean exports and 90 percent of the sugar shipments, the port authority said by e-mail.
Soybean prices slid 0.8 percent Wednesday to $10.10 3/4 a bushel in Chicago a day after rising to a six-week high on concerns about the truckers' strike.
"The consensus is that the situation will be resolved before the weekend with no major harm to exports," Pedro Dejneka, managing partner for AGR Brasil in Chicago, said by e-mail.