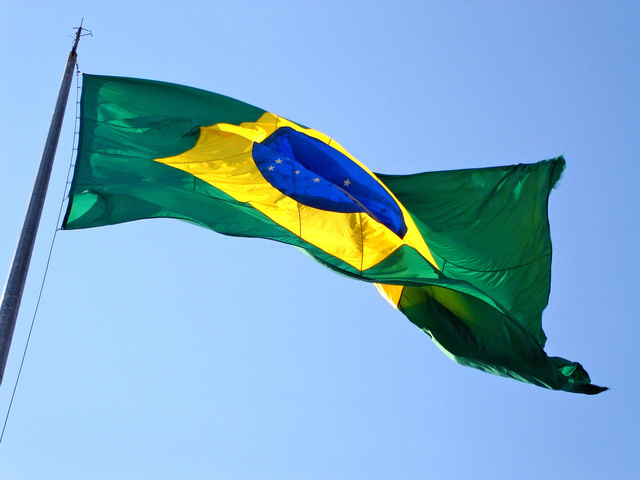 Brazil's soybean farmers could reap record  $12 price in the next harvest, according to some estimates, as the country's soybean planting progress advanced to roughly 40% in top producing states. Meanwhile, could Brazil be trying to cut into current U.S. soybean exports to China?
According to one consultant, soybean prices will rise to $12 by February 2017, just in time for Brazil's soybean harvest. 
Why? Because CBOT "has spent all its ammunition" on the U.S. record harvest, which is already priced, according to Liones Severo, a market consultant with SIMConsult, in an interview with Notcias Agricolas, of Sao Paulo.
Severo cautiones that Brazil's producers should keep in mind that demand from China will only go up. 
The  American harvest still is underway, and already 60% of projected exports to China have been sold in forward contracts, he says.
Brazil is currently planting soybeans that will be harvested this winter, while the U.S. is currently harvesting soybeans. 
Given China's steadily insatiable demand for soybeans, used mainly as animal feed, Severo's advice to Brazilian producers is "to be quiet."
Even though fall is the peak season for U.S. soybean exports to China, Brazil has sold four shipments of old crop soybeans last week for delivery in November and December, according to a Reuter's report. 
More Brazil shipments are being negotiated "with aggressive pricing," as producers try to reduce stockpiles after four years of record global production, the report notes, citing a Singapore-based trading source.
However, South American grains consultant Michael Cordonnier, of the Soybean and Corn Advisor, tellsAgWeb he was "skeptical" of the report.
"There are reports in Brazil that it is hard to buy soybeans due to either farmers holding for better price or they have already sold their soybeans," he says. "As a result, prices at the ports have increased slightly over the past week due to short supply. I am sure there are still some soybeans left to sell, but I don't know if it is 10 to 12 MT."
Soybean plantings are more than 42% completed In Brazil's biggest soybean-producing state of Mato Grosso, the IMEA (Mato Grosso Institute of Agricultural Economics) reports. But the planting progress has been uneven across the state, on Bolivia's border, due to uneven rainfall.
Planting has advanced more than 66% in the western part of the state, but is only 8.9% complete in the northeast, IMEA reports.
In Brazil's southern Parana state, soybean plantings are 37% complete, according to CONAB, Brazil's government grain agency.
Brazil is the world's largest soybean producer, followed by the United States and Argentina.