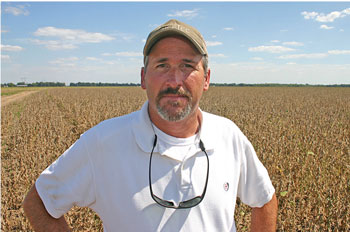 To achieve the highest yield, know what lies beneath
It's only a few weeks into the new year and David Bennett can already feel the palpable draw of his land firing the urge to plant. He's coming off a remarkably bountiful fall, with all of his 5,000 acres primed for planting. When spring breaks, his sprayer and planter will be ready to roll—a testament to his preparation.

In September 2014, Bennett set an all-time soybean record in the Arkansas Soybean Association's Grow for the Green yield contest—112 bu. per acre with Asgrow 4632. Bennett, who farms near Lake Village, Ark., saw stellar yields across his fields, averaging in the high 80 bu. per acre range.

The 2014 growing season was a mix of fine weather and cool temperatures for Bennett, who farms alongside his father, Earl, and brother, Michael. It's a maxim of agriculture that farmers have to go where the weather takes them, but such oversimplified explanations mask the management, science and art of farming that form the core of Bennett's operation. 

With a crop mix that includes corn, rice, soybeans and wheat, Bennett got out of cotton several years back as margins tightened. He's still sitting on a four-row picker and has the advantage of growing soybeans on what was once top-notch cotton ground. Bennett grew 2,600 acres of soybeans in 2014, a bit above normal after he cut back on corn. The move played out well with a good price and strong yields. 

"In the past, soybeans were a utility crop to be used in rotation. We didn't make much money with soybeans but instead just paid the bills," Bennett recalls. "Our cash crops were rice and cotton. Maybe 15 years back, we started planting corn, and the system was perfect for a soybean rotation."

In spring 2014, Bennett had his soybean seed treated with CruiserMaxx. Using three double-row Great Plains planters and 38" middles, his 112 bu. soybeans finally hit the ground on April 22, a full two weeks past his usual planting date. By the time he got corn in the ground, rains hit and kept pushing back soybean planting. Fortunately, the crop never suffered a late-planting penalty. 
At planting, Bennett added a live bacterial inoculant by sprinkling it in the seed wagon. "Sure, it can be a pain to put on the live inoculant right, but I've watched my yields skyrocket," he explains. "I don't necessarily do it on hard ground, but I'll make a point to do it on sandy loam. My yields have jumped accordingly." 

"David's timing on everything he did was right in 2014," adds Gus Wilson, Chicot County Extension staff chair, University of Arkansas System Division of Agriculture. "Nutrients, burndown, planting, variety and irrigation were all done perfectly and then boosted by excellent weather." 

With land that rubs against Lake Chicot, Bennett is blessed with an abundant salt-free water supply and treats his soybeans accordingly using polypipe. He begins watering sandy loam well before it needs the moisture because of further, adjacent ground that needs water sooner. Once Bennett starts watering, he doesn't really let the ground dry out. 
"I watch very, very close, and if I can't go into a field and dig up 5" and make a mud clod, then it's time to water," he says. "I start watering too early, but I'm forced to in my operation because I can't get to everything fast enough." 

He shuts off the water for the season when half the leaves are starting to turn brown and it's wet.

Bennett's operation is minimum till, except for his rice ground. In 2014, he put a disk in a particular area that hadn't been touched since 2000. 

"On corn, we'll cut it and then I'll clip the stalks and hip up right behind," he says. "After that, I don't touch the ground until the next year." 

Each fall, Bennett drops nitrogen, phosphorus and potassium on his fields and is a firm believer in spending the extra money. His yields have jumped from the 50s to the 80s.
Differing from Arkansas' past 100-bu. growers, Bennett didn't use a fungicide. "I think fungicides can be a good product, but my soybeans didn't need anything. It's like getting up in the morning with no headache: Why take an aspirin? A lot of people do it, but it's an expense I wanted to avoid," Bennett says. "People think you can't get high yields without fungicide applications, but I did."

Bennett's soybeans did come under attack by stinkbugs during the season, so he sprayed Brigade once. Also, at season's end, he went over with a pound of Orthene, right before the crop was finishing out and the soybeans started to separate in the pod. Bennett was busy cutting corn and used the Orthene spray as a precaution.

Close to harvest, Bennett could see his fields were heavy with pods, but he had no inkling he was looking at a historic yield. After cutting a field at 98.9 bu. in 2013 and coming tantalizingly close, Bennett was only hoping to break the 100-bu. barrier. On Sept. 11, he started cutting, and his dump filled up an entire front trailer hopper, with plenty left for the back. 

"That's when I absolutely said, 'This is going to be a significant yield,'" he says. "I was sure proud, but it made me dizzy. My phone was ringing like crazy, and I was a little reluctant. I personally believe a lot of farmers have done it, but haven't joined the contest."

After harvest, Bennett immediately starts preparing for the next growing season, which is another key to his success, Wilson says. "He's tireless about soil-testing, and it shows in his fields. He also keeps up with the latest technology and is not afraid to feed a crop what it needs," he adds.

What advice does Bennett offer other farmers after a 112.012 bu. per acre haul? "If you want higher yields and the opportunity to make more money, it starts with soil sampling," Bennett says. "A farmer can't treat the ground if he doesn't know what's causing the problem. If you want big soybean yields, you're going to have to really find out what is going on beneath. You can't plant, water and go home."