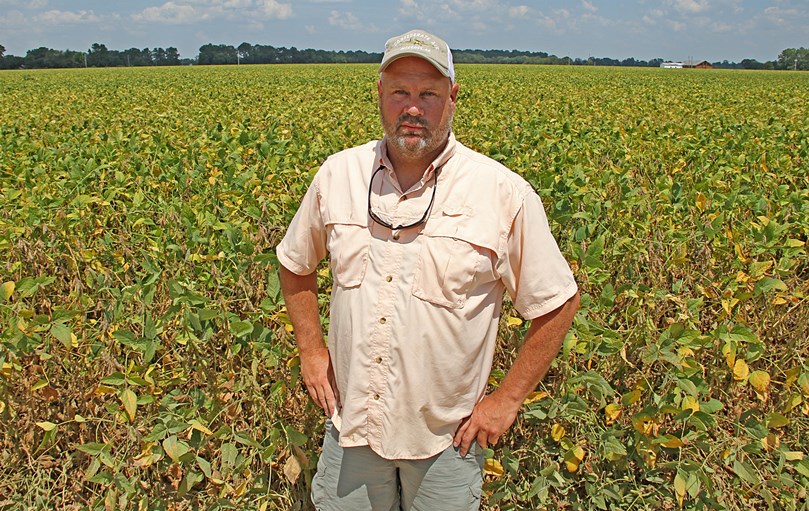 Secrecy is farming's seductive mistress, but concealing production tips isn't a formula for long-term success, according to the convictions of some of the top-yielding producers in agriculture. Seats at farming's competitive table can be rough spots, filled with sharp elbows and swift kicks, but five heavy-hitting corn and soybean growers say hiding management techniques is ultimately a road of poor return.
Randy Dowdy, Perry Galloway, David Hula, Kevin Matthews and Matt Miles have consistently produced some of the strongest yields in the history of agriculture. Spaced across four states, the five friends and brothers in arms are separated by 1,000 miles of farmland, yet share a practice of open field management and a belief that today's competitor may be tomorrow's helping hand.
Soybean Blast
When Randy Dowdy began farming in 2006, he was equipped with a 3020 John Deere tractor, a two-row twin-row John Deere flex planter, a two-row subsoiler, a six-row sprayer and no background in agriculture. Simply, Dowdy was a tiny fish of little consequence to other producers. "I wasn't a threat to anyone, but I ran into many farmers that wouldn't share any information," he recalls. "I vowed I'd pay it forward and share if I ever had any success."
Success, indeed. The first-generation producer (growbigcorn.com), 44, from Brooks County in south Georgia carries a reputation for stellar yields and fired the shot heard round the soybean world in 2016, a 171 bu. per acre record volley aimed at the heart of nutrient management. (Dowdy also tagged 521 bu. per acre corn in 2016, with a whole farm average of 369.84 bu. per acre.) "I believe we've got to break a tradition of secrecy in farming," he says. "In a heartbeat, farmers will help a neighbor who is dying. What if that same neighbor is on his financial deathbed and has too much pride to say anything? Does he literally have to be dying for us to help?"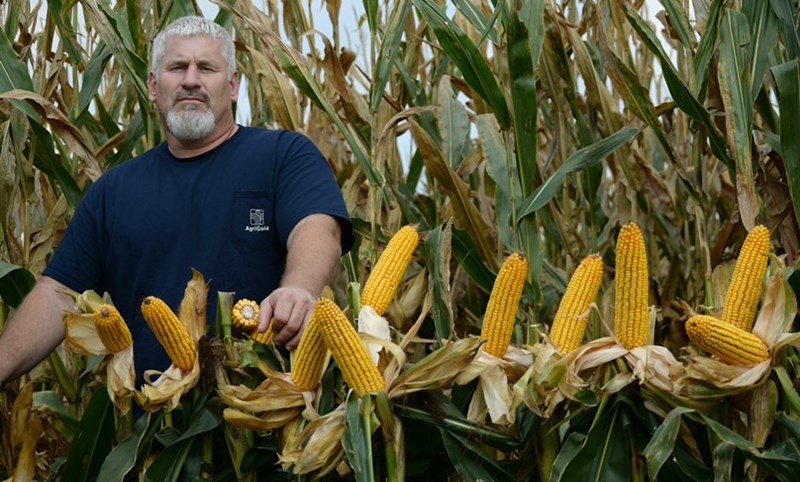 For in-season soybean success, Dowdy offers three general tips. One, toss out university insect thresholds developed in the 1970s: "The thresholds were built on 30 to 40 bushel beans, but our goal now is 80, 90 and 100 bushels. I don't want insects in the field, period, because they feed on the leaves which are my yield producing factory." Two, pull tissue samples to ensure proper nutrient levels. Three, focus on plant health and spray fungicides as a disease preventative, not a cure.
For corn, Dowdy's top tip begins with moisture: If any means is available to get water, spend the money to install irrigation and lessen risk. Two, fertigate and partition fertilizer over the course of a season. Three, consistently walk the corn. "Let the plant tell you what is needed and pull tissue samples for verification," he says. "The best thing a farmer can see in his field is his shadow."
For more on Dowdy, see Who Killed the Finest Soybean in the World?
Consistent Excellence
As a highly-respected producer in Gregory, Ark., and an apostle of intensive management, Perry Galloway, 50, is no stranger to consistent high yields, reaching 318 bu. per acre in the 2014 National Corn Growers Association (NCGA) contest and steadily averaging 80 bu. per acre across his soybeans in most years. "In one sense farmers are a family trying to make ends meet, so I don't mind answering questions or telling anyone how I do it," he says.
Across his operation, Galloway is 90% irrigated with 35 pivots over 8,000 acres of gentle, undulating fields. Galloway offers the same top three in-season tips for soybeans and corn. First, timeliness is hyper-critical. Second, a proactive, not reactive, management approach is key, in tandem with quality seed treatments: "We've all been doing this long enough to know what the challenges will be and how to get ready." Third, soil health (biologicals, fertility, pH) is vital for strong yields.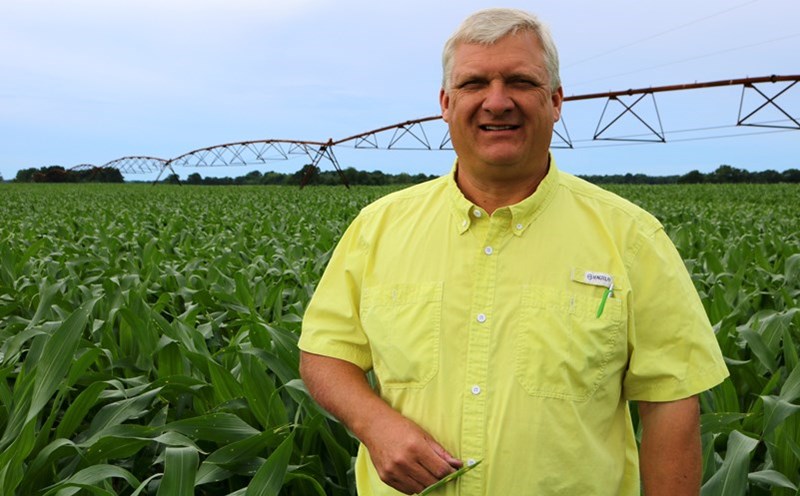 Benchmark Corn
David Hula, 54, Charles City, Va. (renwoodseed.com), shook up the grain world in 2015 with a 532 bu. per acre yield in the NCGA yield contest, a world record that still stands. His experience in gleaning information from open growers began when he temporarily left the farm after college to work on the Chesapeake Bay Program. "I covered lots of counties and found many growers that were willing to share. One grower, Ronnie Russell, was the epitome of helping others with what he knew. It resonated and stuck with me. Farmers like Ronnie helped get me where I'm at today," Hula says.
"Everyone seeks information from others when they're down, but we don't always pass it back when yields go up. Farmers are bombarded with so much information that's hard to process. Personally, I just find it so gratifying to help someone else and watch their excitement build," he explains.
Hula's top three bin-busting corn yield factors are based on a question of pounds: How can a grower increase weight? One, maintain nutritional balance with micronutrients between V3 and V5. Two, concentrate on disease management and intensively fertigate just prior to tasseling. Three, focus on test weight by ensuring plant health and fertilizer availability late in the growing season through aerial application.
SDI Explosion
Kevin Matthews farms in North Carolina's Yadkin River Valley and has gained fantastic yield boosts with subsurface drip irrigation (SDI). (He registered 320.20 bu. per acre in the 2016 North Carolina Corn Yield Contest.) "The plain truth is I wouldn't be where I'm at if it weren't for others helping me to produce crops. People helped me with tips that didn't have to and I'll never forget it. That help and the Lord's blessing are my keys to success," he says.
"Secrecy is not a good road to success, but being open and helping others will come back," he adds. "I truly enjoy helping somebody avoid a mistake I've made in the past."
Matthews, 44, (mattfamfarms.com) has 3,000 corn acres in 2017, and is slowly building irrigated acreage, despite lacking aquifer access. He currently has 400 irrigated acres, almost all of it in SDI. The SDI allowed Matthews to jump from dryland ground that typically produced 150 bu. per acre corn to an approximate range between 290 and 320 bu. per acre. SDI irrigated soybeans climbed from 55 bu. per acre to 95 bu. per acre.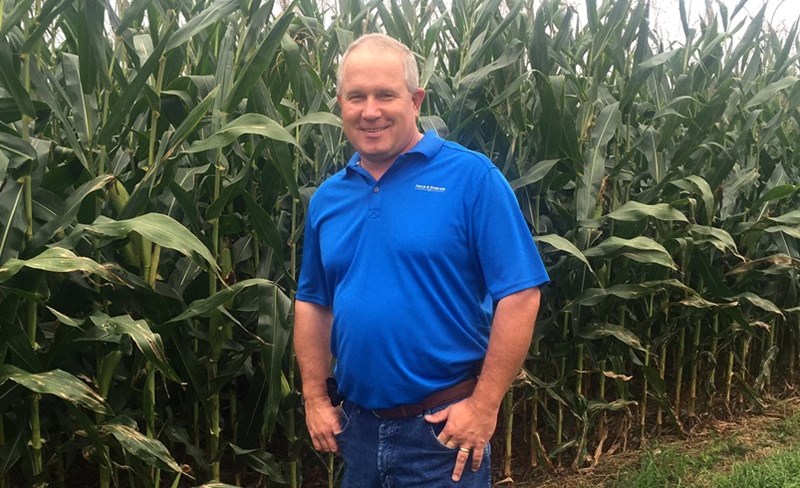 Matthews has shown that marginal ground under irrigation combined with proper management can produce stout yields. He is currently in the process of transferring 300 marginal acres to SDI (sourced from a large pond) and aims to boost corn yields into the 270 bu. per acre range. "I'm not looking to rent another acre. Instead my goal is produce more with what I've already got. I work hard already; I want to work smarter," he notes.
For Matthews, working smarter includes soaking in tips from other growers, a two-way street he says is invaluable: "I've got a very good relationship with Matt, David, Randy, and Perry. I learn so much from these guys, and sometimes it's the small things that cost so little but can bring a huge net return."
Matthews parallels his top three in-season tips for corn and soybeans. First, he says producers must be a presence in the rows. Second, aggressive tissue sampling is a prerequisite. Third, the right soil moisture monitoring system and weather station is a major priority. (Matthews is currently testing Netafim's uManage system.)
100-bu. Repeater
With an overall farm average approaching 90 bu. per acre, Desha County producer Matt Miles can hardly keep track of the number of times he or his son, Layne, or wife, Sherrie Kay, have eclipsed 100-bu. per acre in the Arkansas Soybean Association's Grow for the Green contest (five 100-plus bu. entries for the Miles family) from 2013 to 2016. Miles, 48, is renowned for soybean success and obsesses over yield data and strip trial results. He's also remarkably open about his growing techniques. Ask him a detailed management question … and expect an in-depth response. "I have no problem telling people how we grow. Maybe I can help get extra yield for somebody," he says. "Farming is unpredictable and some years I may be the one needing help or advice."
"I try to tell my own son, Layne, every day: Life centers on relationships and legacy," Miles continues. "The Bible tells me to love God and love my neighbor, and I want to apply that to farming.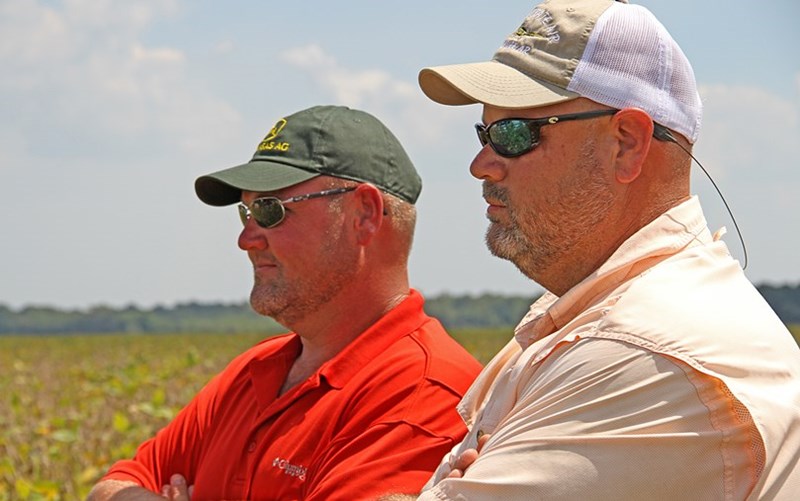 Miles' top three soybean success factors center on fertility, drainage and variety selection. "It's about a system and making the effort across every little thing at the right time," he explains.
No Shortcuts
Dowdy, Galloway, Hula, Matthews and Miles lost an esteemed farming brother with the passing of producer Steven Albracht, Hart, Texas, in April 2017. As a perennial yield champion and phenomenal innovator, Albracht, 52, consistently spoke publicly about his production system. "Steven was a fine friend, great competitor, yield leader and a tremendous influence on all of us," says Dowdy.
The gulf between good and great farming is bridged by timing and attention to detail. "I know there are no shortcuts or instant fixes," Dowdy says. "We are the authors of our crop production, but God is the finisher."
"I know every farmer can and will struggle at some point," he adds. "How can we not help someone in need? Farming has a level of camaraderie, but there is a line of separation people don't want to cross. We need to break that line."