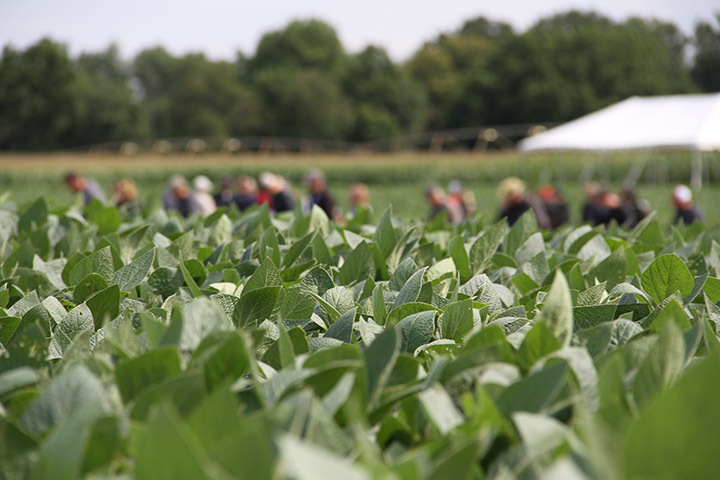 What drives the engine of soybean yield?
The three biggest factors that drive soybean yields are water, sunlight interception and nutrient uptake. The trick is maximizing all three, because without them, no grower can reach a proper goal.

Missy Bauer, B&M Crop Consulting, detailed yield drivers at Soybean College 2014 in Coldwater, Mich. "When we're trying to maximize soybean yields, we need to think about the big picture with water, sunlight and nutrients."

What are some things a grower can control regarding water? Avoid compaction, understand evapotranspiration and how it works, and recognize the importance of row spacing and population. "Growers walking their fields need to do some evaluating of what is going on underground. We shouldn't allow soil compaction or density layers to be limiting factors for water uptake into plants," says Bauer.

Sunlight interception goes hand-in-hand with water uptake. How does a grower get to 97% light capture quickly and not waste sunlight? For Bauer, it goes back to row spacing and populations. "When you're farming narrow rows, you probably need to think about lower populations."

High populations may restrict CO2 and increase humidity in the canopy. High humidity also increases water vapor and decreases CO2 – which drives soybean yields. Conversely, wide rows may need higher populations because the leaf area index must still be covered. "Sunlight interception is huge because it drives photosynthesis. Energy from the sun is either going to be absorbed by the leaves on its way through the canopy or it's going to hit the ground. If it hits the ground, sunlight is wasted energy," she says.

With nutrient uptake, Bauer emphasizes balanced soil-testing to allow for proper uptake into plants. "Big beans don't mean big yields and a lot of the time the taller the beans, the longer the distance between the nodes."
Thank you to the 2014 Soybean College sponsors:
BASF, Great Plains Mfg., Honeywell, Plant Tuff, SFP, Top Third, Wolf Trax