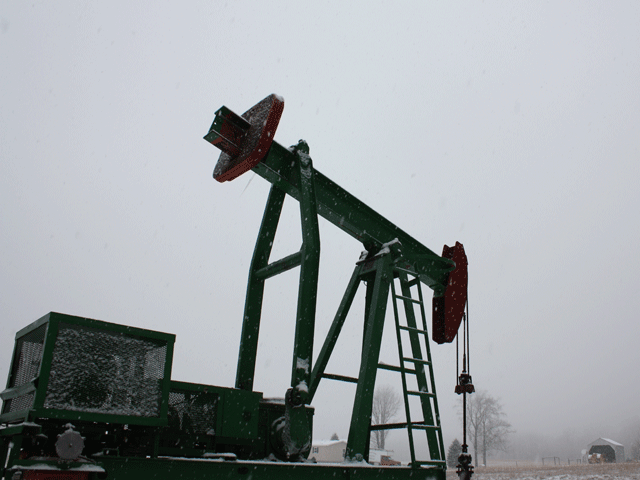 Brent crude oil fell below $55 a barrel for the first time since May 2009 as record supplies from Iraq and Russia bolstered speculation the global glut that drove crude into a bear market will persist.
Futures slid as much as 2.8 percent in London, extending a loss of 5.1 percent last week. Iraq, the second-largest producer in the Organization of Petroleum Exporting Countries, plans to boost crude exports to a record this month, the Oil Ministry said. Russia's output rose to a post-Soviet high in December, according to preliminary Energy Ministry data.

"Another day, another record," Eugen Weinberg, head of commodities research at Commerzbank AG in Frankfurt, said by e- mail. "We are already in the regions of fundamental exuberance to the downside."
Brent slumped 48 percent last year, the most since the 2008 financial crisis, as OPEC resisted calls to cut output amid a battle with U.S. shale producers for market share. The 12-member group, which supplies about 40 percent of the world's crude, pumped above its target for a seventh straight month in December, according to a Bloomberg News survey.
Brent for February settlement declined as much as $1.70 to $54.72 a barrel on the London-based ICE Futures Europe exchange in London, the lowest since May 6, 2009. It was at $54.74 as of 12:17 p.m. London time. The European benchmark grade traded at a premium of $3.36 to West Texas Intermediate.
WTI for February delivery dropped as much as $1.38, or 2.6 percent, to $51.31 a barrel in electronic trading on the New York Mercantile Exchange. That's the lowest level for the U.S. benchmark since May 1, 2009. The volume of all futures traded was about 28 percent more than the 100-day average for the time of day.
Glut Continues
"Rising supply, slowing refinery demand, rising dollar, it is the same factors driving prices," Ole Hansen, head of commodity strategy at Copenhagen-based Saxo Bank A/S, said by e- mail. "With news from Iraq and Russia about increased supply, then the expectations about the glut just continue to grow."
Iraq plans to expand crude exports to 3.3 million barrels a day this month, Asim Jihad, a spokesman at the Oil Ministry in Baghdad, said by phone yesterday. The country exported 2.94 million a day in December, the most since the 1980s, he said.
Russian oil production rose 0.3 percent in December to a post-Soviet record of 10.667 million barrels a day, according to preliminary data published Jan. 2 by CDU-TEK, part of the Energy Ministry.
Saudi Discounts
Saudi Arabia may narrow discounts in its official February crude selling prices to buyers in Asia in the coming days amid speculation that demand will because of the plunge in benchmark prices, according to 12 of 15 traders and refiners in a Bloomberg News survey through today. Three respondents forecast price differentials to be unchanged.
The world's biggest oil exporter offered its Arab Light grade at the biggest discount in at least 14 years for January. The move was followed by Iraq, Kuwait and Iran, prompting speculation that Middle East producers were protecting market share amid increased shipments from Latin America, North Africa and Russia.
Venezuela Meeting
Brent will trade at $80 a barrel this year, down from a earlier estimate of $104, amid increases in global spare capacity and rising inventories, Sanford C. Bernstein said in an e-mailed report today. The researcher also reduced its prediction for 2016 to $90 from $109 previously.
Venezuela President Nicolas Maduro is traveling to China for talks on financing and energy and expects to visit other OPEC nations to develop an oil-pricing strategy, he said on state television yesterday. Maduro plans to meet Chinese President Xi Jinping as he seeks to "confront" the decline in Venezuela's income that has forced his government to review "all investment plans" and seek new ways to obtain foreign currency.
To contact the reporters on this story: Rupert Rowling in London at [email protected]; Grant Smith in London at [email protected] To contact the editors responsible for this story: Alaric Nightingale at [email protected] James Herron, Rachel Graham