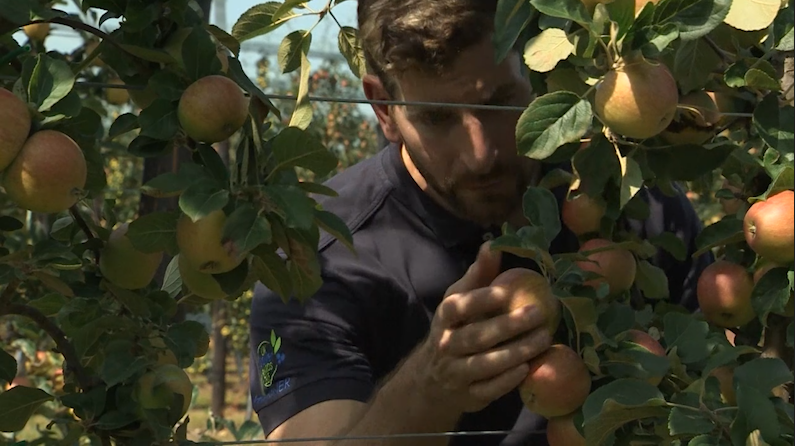 Like the United States, British fruit growers rely on seasonal migrant workers from other countries to hand-pick crops.
According to Britain's Office of National Statistics, 80 percent of seasonal workers come from other European Union countries. 
After the country voted to leave the EU with the so-called Brexit vote, it raises doubt as to weather farmers can find adequate numbers of migrant workers in the anti-migrant atmosphere.
Pickers work against the clock to get perishable crops to market.
Robert Rendell manages a fruit farm in Essex, northeast of London. Rendell struggles to find local workers to do the grueling task of picking produce. He now relies on migrant workers like Redzep Bayram, a college student from Bulgaria.
"Because Bulgaria is a poor country, you don't have money," said Bayram. "I can't pay my school if I work in Bulgaria. I need to work somewhere."
Other industries also depend on European workers. Nearly two million, or 6 percent of Britain's workforce comes from other EU countries, according to government statistics. But few industries are as dependent on migrants as the produce sector.
"There is not a lot of interest amongst Brits in taking up these jobs to the extent that when there are labor shortages and temporary migrants don't come in sufficient numbers, the harvest will literally rot on the trees," said Emily Lydgate of the United Kingdom Trade Policy Observatory at the University of Sussex.
The labor supply is under that threat. Concern about immigration was a driving factor in the campaign to leave the EU. Without a guaranteed workforce, farmers find it challenging to plan ahead.
"Growers have to plan 2-3 years ahead in buying their plants and their trees," said Laurence Olins, chairman of British Summer Fruits Industry Association. "I know growers who stopped expanding because they can't put an order in for their trees or plants because they don't know whether they will have labor in 2018 and 2019 to pick that crop."
Olins said Britain could ensure the supply of labor with special visa rules for foreign agricultural workers because it has issued them in the past. With so much in the air after the Brexit vote, it is unclear when that will be sorted out.
As for Rendell, he says losing migrants will have lingering effects throughout the soft fruit industry.
"If we don't have that labor, we don't get that crop harvested, then the higher value jobs—processing jobs, sales jobs, logistics jobs—don't exist," said Rendell.
AgDay-Brexit Vote Causes Problems for Migrant Fruit Workers-9/3/16