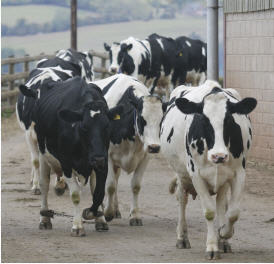 National Farmers Union dairy board chairman Rob Harrison describes the latest processor price cuts as "another kick in the teeth" for the average dairy farmer.
British dairy farmers are suffering as milk prices continue to plunge, reports Farmers Weekly, one of Great Britain's leading agricultural publications.
Last week, Dairy Crest, First Milk and several smaller processors issued price cuts of more than 1p/litre, following Arla's latest drop last Tuesday, the publication reports.
Now thousands of British dairy farmers are being paid 8-10p/litre less than in the spring. Almost 500 First Milk members on liquid contracts will be paid 21.7p/litre.
Speaking at the Northern Dairy Conference in Great Britain on Dec. 9, National Farmers Union (NFU) dairy board chairman Rob Harrison said, "I am as angry and disappointed with the recent milk price cuts as everyone else here – it's been a real kick in the teeth. Things are bad and we're all going through some tough times."
The NFU represents more than 7,800 dairy farmers in England and Wales. Dairy Crest is one of Britain's leading dairy companies, purchasing 1.8 billion liters of milk each year from 1,100 British dairy farmers. 
Angry over repeated cuts to their milk prices, British dairy producers have staged several protests at their milk procurement centers this year.
The United Kingdom's dairy industry is heavily dependent on the domestic market and a handful of dairy processors, who began lowering prices paid to farmers earlier this year. The NFU has been lobbying the EU Commission to support the export of UK dairy products to third countries (those not in the EU) to increase market opportunities immediately and develop alternative markets.
Milk supplies remain high, with UK daily production running 4.7% up on the year and the European Union turning out 4.6% more milk in September than it did in 2013, Farmers Weekly reports.
On Nov. 25, NFU's Harrison addressed Parliament on concerns about this year's significant drop in British dairy prices. Watch his address here.