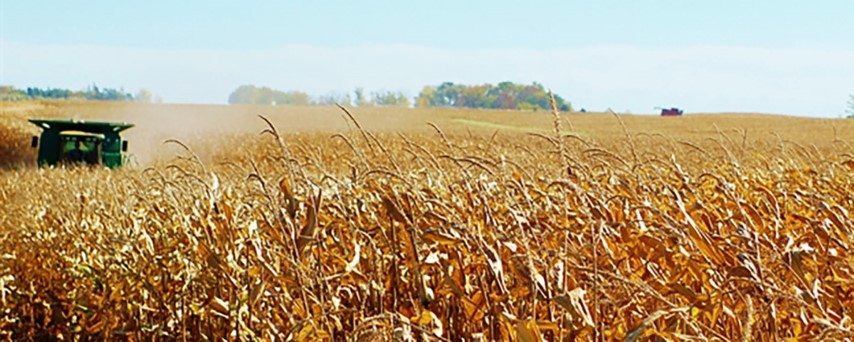 Below breakeven, manage two prices
This summer, corn prices met a harsh new reality. Local corn quotes fell as low as $2.50 per bushel for harvest delivery on the Corn Belt's northwestern fringe. Yet across the country, prices are succumbing not only to tumbling futures but also to widening basis.

The downturn in basis bids will require producers to dust off marketing strategies untouched for years. 

"It's back to pre-2006 marketing," says Chad Hart, ag economist, Iowa State University. "The new environment requires that producers look at pricing as not one but two prices."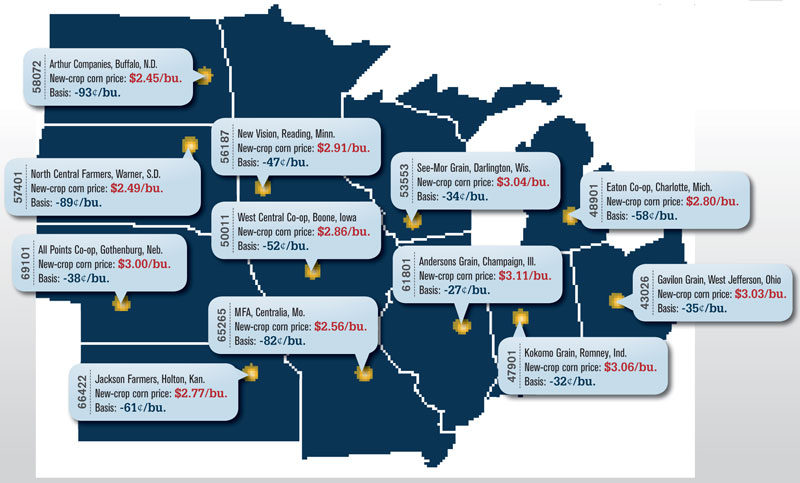 He's referring to the actual cash price of the crop, which is determined by futures prices, and to setting basis, which is often done using a fixed basis contract. 

Basis reflects the spread between futures and local prices, meaning it can vary widely even in the same state. When basis narrows but the futures price is weak, it might make sense to lock in basis but leave the actual price of the commodity open. "Not only can there be carry in futures but carry in basis," Hart says.

In the northwestern part of the Corn Belt, basis has widened to more than $1 per bushel in cases. 

"From the 2012 to the 2013 crop, we had an undersupplied, high-demand corn market," explains John Melius, farm market consultant for Hurley and Associates in Brookings, S.D. "Now the market is oversupplied, and that's reflected in basis."
Change At All Levels. Spreads are huge regionally and at more local levels. As of late August, for example, corn basis bids for harvest included 87¢ under futures in Aberdeen, S.D.; 85¢ in Valley City, N.D.; 46¢ in Kelly, Iowa; and 27¢ in Champaign, Ill. 

At the state level, basis varies by crop year. In central Iowa, old-crop basis for August and September ranged from 15¢ to 20¢ under, yet new-crop basis for October through January ranged from 40¢ to 45¢.

The disparity is evident at sites just miles apart. New-crop corn basis bids for Ames, Iowa, were 40¢. Just 10 miles away, the city of Nevada saw basis bids 12¢ better at 28¢. 

It's tempting to drive to the best basis city. Before making that decision, though, producers must carefully analyze transportation costs, Hart cautions. The rule of thumb is it costs 1¢ per bushel per mile.

Additionally, attractive basis can exit as quickly as it appears once buyer needs are fulfilled. "We'll 
now start to see some traditional patterns—wide at harvest, tighter during the winter and wider again in the spring," explains Frayne Olson, an agricultural economist at North Dakota State University.
Basis Might Alter Practices. It's unclear how producers and end users will respond to widening corn basis. "In today's world, basis levels are anything but stable," Olson says. "At times, we have more volatility in basis than futures prices." 

With corn at $6 per bushel, producers largely could ignore a 5¢ basis move. Looking to next spring, wide basis on the fringe of the Corn Belt could also affect plantings. Melius, the farm market consultant, predicts a reduction in corn and a big shift to soybeans as well as historically important small grains. 

Across the U.S., corn acreage rose 21% between 2003 and 2013. Yet corn acreage gains proved higher still in North Dakota (166%), where farmers planted the crop in favor of wheat; South Dakota (41%); Kansas (48%); and Texas (26%). 

"These newer acres (of major crops) are expected to be at greatest risk of being economically forced out of production," Rabobank notes.

Among crop producers planning to transition in 2015 is Braden Gruhlkey of Wildorado, Texas. 

"One of the biggest ways I'm cutting costs for 2015 is to shift acres from corn to cotton," he notes. He expects the shift to have an advantage of $50/acre, largely because cotton requires fewer inputs. 

This year, though, corn is treating him well. Gruhlkey's operation is close to feedyards, so his elevator basis in late August was a positive 20¢. What's more, he fixed his basis in late 2013 at a positive 50¢ to futures, far from negative basis to the north. Along with forward sales made in December for the 2014 crop, he'll net $5.50 per bushel, about $2 above his breakeven.
Note: The risk of loss in trading commodities can be substantial. Past performance is not indicative of future results.