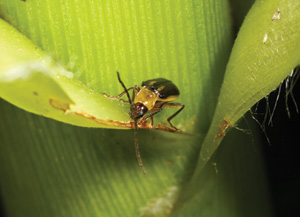 The National Corn Growers Association (NCGA) says its compliance program is reaping rewards, with more growers planting corn refuges and using integrated refuge products.
The Compliance Assurance Program (CAP) includes on-farm refuge assessments, an online survey, and IRM education and awareness efforts. Those efforts are starting to show promise, says Agricultural Biotechnology Stewardship Technical Committee co-chair Mark Kimm.
"We are pleased to see that the number of growers planting integrated refuge products on their entire farming operation has more than tripled this year," he says. "The percent of those who planted exclusively integrated product increased from 18% in 2013 to 47% in 2014. Also, an additional 27% are planting at least one integrated product."
Integrated refuge products include Bt and refuge seed interspersed in a single bag or container, Kimm says. According to ABSTC projections, adoption of integrated products will continue to increase. That increase in compliance will help preserve Bt corn technology durability, he says.
The latest ABSTC survey reveals that the majority of farmers plant the required refuge size on their farms, and planted it within the required distance for all of their Bt corn fields. Farmer incidences of not planting any refuge acres continues to be low, the survey finds.
What do you think about the current refuge requirements? Continue the conversation on the AgWeb discussion boards.