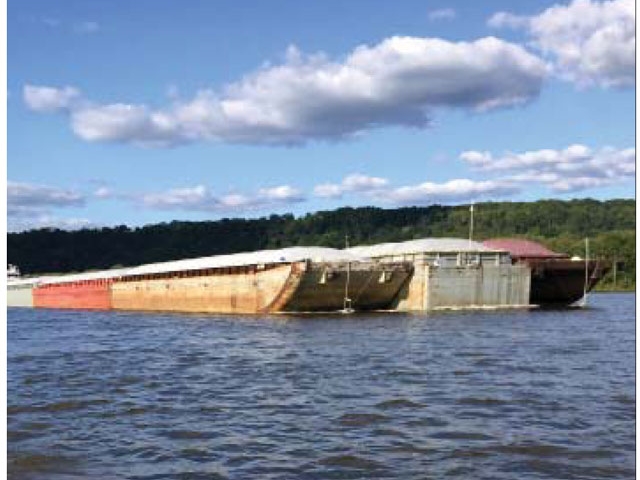 Grain farmers seek waterway upgrades, but progress remains slim
As the Mississippi River cuts its way south from the Corn Belt, old age is cutting away at the waterway infrastructure used to ship commodities overseas. Locks and dams up to 90 years old can only do so much to reliably deliver increasingly large corn and soybean crops out of the U.S., producers say, and farmers can't afford a hiccup.

"Any breakdown or delay would immediately turn into a market-moving event," says Tim Recker, former president of the Iowa Corn Growers Association and a producer from Arlington, Iowa.
Farmers such as Recker, economists and waterway experts spoke to "Market Rally" radio host Chip Flory on the river this fall to spotlight what they describe as an overlooked asset to farmers' bottom lines. The radio episodes, sponsored by Iowa Corn's District 3, underscore what they say are the key factors that have converged to push waterways down the priority lists of U.S. policymakers. 
By the Numbers: How River Shipments Stack Up
"We need to re-emphasize to farmers how important the river is as an economic driver to their operations," explains Bob Hemesath, Iowa Corn chairman. "We need to be talking to our legislators and to our friends and neighbors."
Back Burner. River transportation didn't always take a back seat. "When I first got involved with the Corn Growers, the river and funding for the locks and dams was a top priority of the organization. We got behind the first Water Resources Development Act (WRDA) and helped to get it passed, but there was never any money appropriated to the legislation, so the effort kind of fell apart," Recker says. "Then this little thing called ethanol got rolling, and the conversation changed. The river and the need for investment in the cheapest form of transportation we have to move grain into an exportable position was overshadowed."

Recker advocates for ethanol, noting is has "brought competition for grain into the Upper Mississippi export market, and that is fantastic." Yet he thinks it's time to move infrastructure back to the forefront in light of low commodity prices and high-dollar infrastructure investments in South American countries that compete for global dollars.
What Does It Mean To Me?

• Vast commodity volumes depend on waterways that are decades old.

• Wider locks could add shipping efficiency and promote inland farm profits.

• South America could add competitive advantages with new infrastructure.
"A tow takes $2,000 to $3,000 an hour to operate, and when you try to push a 1,200-ft. tow through a 600-ft. lock, it takes too long," explains producer Tim Burrack, also of Arlington. "If you can save a quarter [of a cent] to a half-cent per bushel with 1,200-ft. locks, we can save 4¢ to 6¢ per bushel by the time a barge gets to New Orleans. ... [It] could be the difference between making a sale around the world or keeping the corn in our bins."

Improvements also would be positive by lowering the cost of freight on corn and soybeans headed down the river and on fertilizer traveling up the river, says Mark Recker, vice president of Iowa Corn and a farmer in Arlington. 

"It's a cost-savings, which means higher efficiency, and higher efficiency translates into more potential profit," Recker says.
Maintenance Only. Work continues to make rivers passable for barges, even though it might not be at the scale many farmers wish.

"Within the region of the upper Mississippi and the Illinois waterway, a major rehabilitation is at the top of our priority list to get our locks into a reliable state," says Tom Heinold, deputy chief of the Rock Island District of the U.S. Army Corps of Engineers, which maintains the waterway. "In the region, we have the top priority in the nation at LaGrange lock on the Illinois waterway. But we have a progression to make serious repairs to these locks and dams to keep them running."
One potential path forward for waterway upgrades is the federal Navigation and Ecosystem Sustainability Program, which has been authorized by Congress but received no appropriations to fund work, Heinold says. The program would advance construction of 1,200-ft. locks at some downstream locations and improve reliability of locks. That could expedite the process of moving barges, which can take up to two hours.

"Now we're talking about 30 to 40 minutes from their final approach until they're clear and the next boat can come up and get ready," says Sam Mathiowetz, lock master in Guttenberg, Iowa. "We're talking about going from a two-lane county road to an interstate system." 

For now, Mathiowetz and his team spend time ensuring basic waterway infrastructure doesn't regress further. 

Rivers themselves need maintenance. "We have to maintain a channel," Heinold says. "We have dredge crews on the Mississippi and Illinois waterways, and even as far south as New Orleans."

Until political will grows, farmers and other advocates of U.S. waterways will continue bringing attention to their economic benefits.

"Increased export demand in the summer of 2016 has created an opportunity for us to pull grain from areas that we haven't pulled from in 20 or 25 years," says Russ Leuck, group manager at the barge-loading facility for Consolidated Grain and Barge in Clayton, Iowa. "This facility gives those areas access to 
a global market." 
To listen to "Market Rally" every day at 2 p.m. CDT and hear the two-part special about waterway infrastructure, visit marketrallyradio.com.
---
Beyond the Basin: How Inland Farms Benefit From Waterway Systems
It isn't just operations near the Mississippi, Illinois and other major rivers that benefit from waterway trade. Farms farther into the Heartland enjoy perks, too. 
"Inland corn growers need that river just as much as the guys that ship grain directly into the barge market," says Ken McCauley, past president of the National Corn Growers Association, referencing the Mississippi River. 

Big rivers also support truckers' and railroad workers' businesses. 

"We have trucks and railcars dumping grain into barges that will make it into the export channel," says Russ Leuck, group manager at the barge-loading facility for Consolidated Grain and Barge in Clayton, Iowa. "Railroads and trucks create a domestic market for grain. Barges provide an international market for rail and trucks. It all fits together."