The up, down and relatively flat outlook for 2015 crop input costs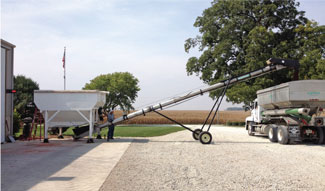 Projected lower commodity prices in 2015 will bring challenges farmers haven't experienced for several years. There will be opportunities, too. Now is the time to tighten budget belts and explore ways to offset low market prices and high input costs—all while maintaining yields. 

The first step to evaluating input costs is to determine the most profitable crop rotation in a volatile market. From 2007 to 2013, Purdue University research showed soybeans were less competitive than corn. Michael Langemeier, associate director for Purdue University's Center for Commercial Agriculture, says this trend has reversed. Input costs for soybeans in 2015 should stay relatively flat compared to a 3% to 4% increase in corn input costs due to nitrogen, drying and miscellaneous costs, Langemeier says. 
Land rent: Today's average cash rents are causing a cost-price squeeze in the wake of sluggish crop prices. "Rents negotiated this summer and fall are likely heading lower for 2015," predicts Gary Schnitkey, University of Illinois Extension farm management specialist. "Farmland rents will likely be $10 per acre lower in 2015 to start a three-year adjustment process." 

Knowing crop margins will be tight, Langemeier recommends farmers sit down with their landlords to renegotiate a 5% to 10% decline in cash rents. 

Fuel: Diesel prices are expected to see a slight decrease in early 2015 and stay relatively flat throughout the year at an average $3.80 per gallon, according to the Energy Information Administration (EIA).

The EIA forecasts propane prices to be $1.99 per gallon this winter (Oct. 1 to March 31). That's a 23.8% decrease from last winter's $2.61 per gallon, the highest price in years.
Seed: If buying an established hybrid or variety, Langemeier says, seed prices will likely remain flat or increase 1%. However, if purchasing a new variety or hybrid, you might see a 2% to 4% increase.

For perspective, for the past 40 years, seed costs have increased 4.5% per year, according to USDA–National Agricultural Statistics Service (NASS).
Pesticide: For 2015, pesticides will see a relatively small increase at 2% to 3%. Similar to seed, since 1973, agriculture chemicals have increased 2.5% per year, according to USDA-NASS.  
Fertilizer: Overall, fertilizer prices will be up slightly from 2014 but down compared to 2012 and 2013. Langemeier sees nitrogen as the driving force behind higher costs. Research shows nitrogen for corn up 3% and for soybeans, up 1%. 

According to Steve Johnson, Iowa State University Extension farm management specialist, anhydrous ammonia prices in October were about $100 per ton higher than fall 2013. 

For the past three or four years, Noland Farms, Blue Mound, Ill., has been able to offset costs by purchasing dry and liquid fertilizer and storing it on-site. This enables the farm to move up on the supply chain and capture opportunities through the supplier. The Nolands typically purchase bulk fertilizer in late July, but this year, they thought the market might soften, so they waited until the end of September. 

"Having our dry and liquid fertilizer on-hand, allows us flexibility on use and the ability to capture market 
opportunities," says Grant Noland.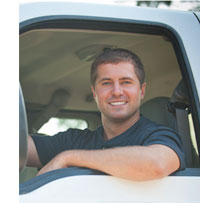 To get a better handle on costs, Grant Noland first determines crop rotation.
To plan for the input fluctuations, figure out where to cut costs without causing a negative yield impact and explore ways to be more efficient.  

"I expect farmers are going to try to reduce fertilizer, crop protection and seed costs by being more efficient as to what, where and how much they apply," Johnson says. "The advantages go to those farmers who soil test regularly and have already invested in precision technology, including planters, sprayers, spreaders and autosteer. These components will likely be the biggest drivers in reducing variable costs of production." 

The Nolands have been using variable-rate technology and continue to see rewards on an annual basis. By 
applying the right amount of product in the right spots, the Nolands are boosting input efficiencies.

"Our fertility rates are great right now, and moving into 2015, we will continue building our soil bank," 
Noland says. "You start skimping on your fertility, and it will have a negative impact on yield at some point."  
---
Strike the Balance Between Saving Money and Impacting Yields
To devise a detailed budget for your 2015 crop, Chris Barron, Top Producer columnist and AgWeb "Ask a Margins Expert" blogger, recommends these steps: 
1. Gather details and expenses for your 2014 crop. 
2. Line item your 2014 expenses and roll into your 2015 budget. 
3. Use the figures to forecast your 2015 expenses. 
4. Test the projections against your farm's five-year averages and adjust numbers accordingly. 
Once you've developed the numbers, Barron says look more closely at the factors you can manage or influence. Can you trim costs? Examine each expense line item and ask yourself: "What is the realistic cumulative savings that won't impact yield?" Evaluate big-ticket categories such as land, equipment and technology with an eye on greater efficiencies. "You can't necessarily cut back on those expenses as much as look at precision opportunities, such as variable-rate planting and other creative ways to minimize expenses," Barron advises.

Can you boost yields? "I know that sounds crazy, given this year's record harvest," says Barron, "but a 10-bu. increase on your five-year average corn yield equals an additional 5% return on investment."

Can you up your marketing game? If you can add just 20¢ a bushel, Barron says, the incremental uptick can equate to another 5% return on investment.