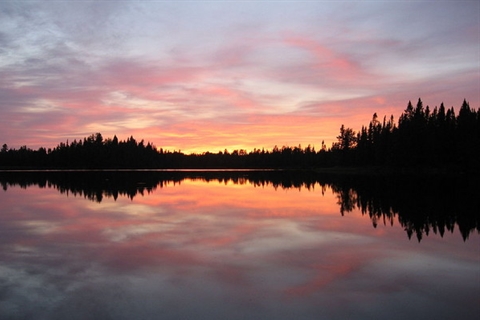 By Tim Krohn, The Free Press, Mankato, Minn.
Gov. Mark Dayton's January proposal calling for vegetative buffer strips along the shores of every body of water in the state continues to be a hot topic among environmental and agriculture groups. What isn't yet clear is what a buffer strip program would look like.
"Everyone is dying to find out what it is. The fact is we don't know," said Jason Garms, who was recently appointed to the new position of agricultural program liaison in the Department of Natural Resources. "The governor wants to see 50 feet of vegetation around all waterways. That's the simple notion but it gets complicated when you get into the details. I know people want more details, but that's yet to come."
Garms will speak about the governor's proposal at the Waseca County Farmer Forum at Farmamerica on March 11.
By the date of Garms' talk, a bill may or may not yet be introduced in the Legislature laying out more details of what might end up in any legislation lawmakers pass. Questions about whether it will rely on voluntary participation, if there will be funding attached and what agencies would run the program are all of interest to farmers. Fifty-foot buffer strips along drainage ditches, for example, would eat up valuable production land.
"What we're hearing from all groups and individuals is that they are pro water quality and for buffers as a practice, but the devil's in the details," Garms said.
Garms, who lives and works in St. Paul but still operates a farm in Jackson County in southwest Minnesota, said his new position in the DNR is aimed at building better coalitions and relationships with ag groups. "Our commissioner recognizes we're not always plugged into the agriculture initiatives. Rather than react we want to be more engaged and form some partnerships with ag producers and groups that we haven't had before."
He said many of the DNR programs aimed at habitat and the environment intersect with programs in the federal Farm Bill. And the agency is involved in things like granting water use permits used for farm irrigation.
"Ag is the second biggest industry in the state and drives our economy. If our agency wants to make strides in natural resource management it will be in partnership with agriculture and agribusiness because that's who owns the land," Garms said. "Conservation happens voluntarily on Minnesota farms and we need to be engaged in it."
Minnesota has requirements for buffer strips -- although usually less than 50 feet -- on farmland to prevent sediment, chemicals and manure from entering water. But counties do not uniformly enforce the rules. When announcing he wanted the DNR to spearhead a more uniformed approach to buffer strips, Dayton acknowledged any new requirements will run into some opposition.
"I recognize this will not be well received by some private landowners," Dayton said. "The land may be yours, but the water belongs to all of us."
Other speakers at the annual Farmer Forum will give details about some of the latest methods to treat farm drainage water and will provide information about the costs and the effectiveness of the different systems. A speaker from the Minnesota Pollution Control Agency will discuss feedlot regulation and permitting.
The event runs from 9 a.m. to 3 p.m.