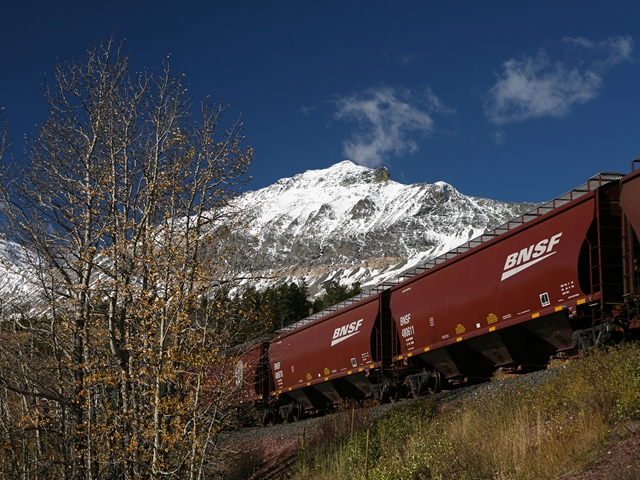 Warren Buffett joked two years ago about the good fortune of having an oil boom in North Dakota, near the tracks of his BNSF Railway Co. More recently, the gusher has become a mixed blessing.
Even as the rout in crude prices spurs producers to curtail spending in the Bakken shale fields, BNSF is sticking to its $500 million plan to expand service to the area. The work spotlights an enduring challenge for the rail industry: how to time long-term capital programs when short-term forecasts can so often turn out wrong.
"This is going to be the year that nobody's going to do anything they don't have to," Vicki Bryan, a Gimme Credit bond analyst, said in a telephone interview. At BNSF, "they've made commitments. They have to."
A record grain crop last year and a surge in oil carloads slowed trains on the railroad's northern line and drew regulators' attention. The Surface Transportation Board ordered weekly status reports and in late December directed Fort Worth, Texas-based BNSF to submit a contingency plan to avoid coal shortages.
The railroad has boosted its plan for capital spending, including for maintenance, by 9 percent this year to $6 billion. That's more than double the outlay from 2010, the year the carrier was acquired by Buffett's Berkshire Hathaway Inc.
"They are under regulatory scrutiny, especially with regards to grain," after farmers complained of shipping delays, said Jeff Wichmann, a bond analyst with CreditSights Inc.
Chairman's View
BNSF is Berkshire's largest unit and has sent more than $15 billion in dividends to the parent company. The plunge in oil prices hasn't deterred BNSF from its spending plan, Executive Chairman Matt Rose said this week, two months after he predicted that shale oil output could decline with prices in the $50 range per barrel. West Texas Intermediate crude traded for less than $46 yesterday, compared with more than $100 in July.
"We're just not going to slow down," Rose said Jan. 11 in Washington, where he was part of a panel discussion about oil- by-rail safety. "We see a very robust rail movements coming at us, so we're going to make the investments."
North Dakota projects include adding stretches of double track and sidings that allow faster trains to pass slower ones. The need to increase spending there was spurred by a threefold increase in crude production in four years to about 1.2 million barrels per day. The state accounted for more than a third of BNSF's growth last year, the railroad said in a September presentation to regulators.
100-Year Plan
More than three-fifths of Bakken oil is hauled by rail because there aren't enough pipelines in the region, said Taylor Robinson, president of Chicago-based PLG Consulting, which advises rail companies. BNSF handles about 85 percent of those carloads, he said. Railroads also haul materials used for drilling, such as sand and pipe.
Buffett has long emphasized investing for long-term results rather than reacting to short-term market fluctuations. When he purchased BNSF, he said it would be a good asset for Berkshire to own for the next century, and he has since highlighted its spending plans to show how the company is planning for the future.
His Omaha, Nebraska-based Berkshire also has a stake valued at more than $3 billion in Exxon Mobil Corp., which declined 10 percent in the past year through yesterday. Buffett didn't immediately respond to a request seeking comment.
Billionaire Harold Hamm, whose Continental Resources Inc. was a pioneer in shale drilling in North Dakota, is pulling back. The energy producer said in December it will average about 31 rigs in 2015, down from 50.
'Almost Always Wrong'
Farmers last year said BNSF was favoring oil shipments over their crops. BNSF's North Dakota delays in June rose to 4,942 grain carloads that fell behind schedule an average of 32 days. In 2014, the company's carloads for petroleum products jumped about 13 percent while grain rose 3.1 percent, according to Association of American Railroads data compiled by Susquehanna Financial Group.
Railroads have struggled for years to anticipate fluctuations in commodity prices and demand. Shipments of coal, one of their biggest businesses, slumped when electricity plants turned to cheaper and cleaner-burning natural gas.
"You try to match this long-term capital program with a short- or intermediate-term forecast that is almost always wrong," said Tony Hatch of ABH Consulting.
A decline in oil prices could be beneficial, said Ben Hartford, an analyst with Robert W. Baird & Co. in Milwaukee. Consumers benefiting from cheaper gasoline will have more money to spend on other goods that the railroad ships, he said. Also, the respite from surging volumes on BNSF's northern route will help improve service, which suffered last year because of the heavy traffic coupled with a harsh winter.
Service Restoration
"Service restoration is the critical variable in 2015," Hartford said.
As quickly as drilling companies reduce spending, they can increase activity when crude prices rebound, PLG Consulting's Robinson said. BNSF's investment in its northern region then will pay off, he said.
"There's a lot of sentiment that, whether it's one, two or three years out, it's going to go back to $70, $80 or $90," he said. "The math would then start to work again."