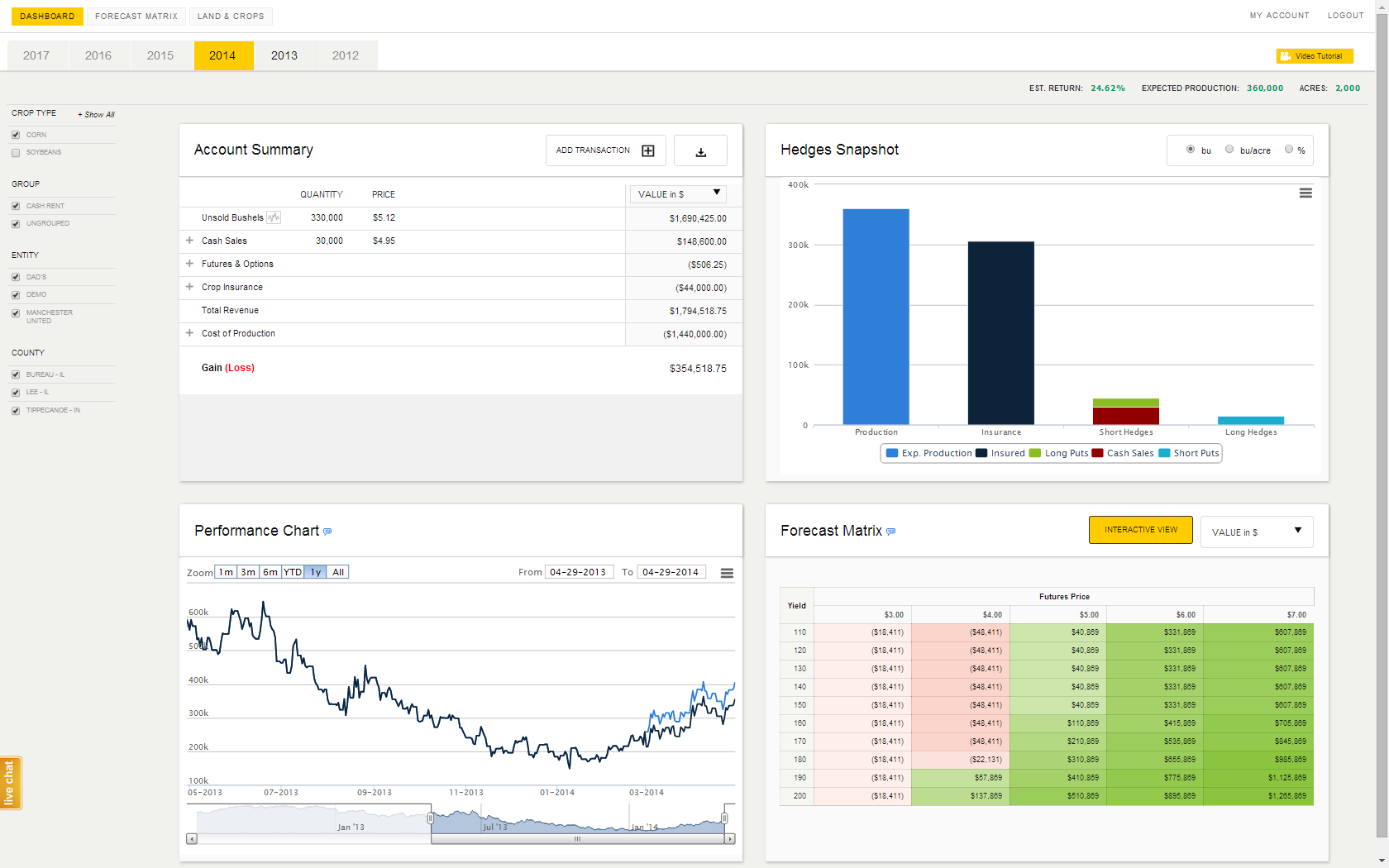 Figure out your cost of production – it's one of the most important pieces of information you can own. These digital tools can help.
For Jim Aden, a fifth-generation farmer near Gothenberg, Neb., the technology needed to collect and analyze data had become his operation's biggest opportunity – and biggest headache.
"Technology is almost overwhelming now," he says. "There are so many more buttons to push and data to manage. You can get more out of it, but it takes more, too. It's easier to make mistakes, too. Sometimes we felt like we were spending more time fixing the information we had."
Aden channeled those frustrations into a business solution. In 2012, he and his partners created Crop Tech Solutions, a software service and dedicated field reps to help customers streamline their data, build agronomy plans with that data, understand their cost of production and get the most out of every acre, especially as a baseline is established and multiple years' worth of information is collected and evaluated in subsequent years.
"Without the ability to have accurate and clean information from prior years, it's impossible to build a solid plan for the future," Aden says.
While a few farmers know their exact cost of production, many still do not.
"It's kind of staggering," he says.
Stumbling blocks. The first challenge to understanding margins is the sheer time and effort needed, Aden says. Data entry and interpretation can almost be a full-time job on many operations.
Another big challenge to pinpointing cost of production is that the target is constantly moving. Each trip through the field produces new costs, new data and new return-on-investment potential. That's why Crop Tech reps meet with their customers at least once a week to keep records current and accessible for real-time information sorted on a whole farm, field or management zone basis.
Whether you use spreadsheets, accounting software or a service such as Crop Tech, make time to keep records up-to-date, Aden says.
"Recordkeeping tends to get pushed off," he says. "You have work to do. You have to get the seed in the ground and manage that crop and get it harvested."
Stepping stones. With the short-term price of corn settling in around $5 per bu., with USDA urging farmers to prepare for the prospect of sub-$4 corn this decade, the importance of understanding margins and breakevens has sharpened into focus more than ever, says Chris Beavers, director of business development and sales for AgYield.
"I grew up on $2 corn," he says. "If you were going to make money then, you had to focus on managing cost. But over the past 10 years, we've seen a lot more price volatility, and as prices have gone up, so have all of the inputs."
AgYield can calculate cost of production, and also includes an interactive "profitability matrix" tool where farmers can punch in various scenarios and view the consequences to those actions – whether positive or negative.
"It's a great educational tool because it's easy to look at cause and effects with these what-if scenarios," he says.
Knowing your exact costs and margins is critical, but it's also just the first step, Beavers adds.
"So many people, consultants, bankers and tools emphasize costs of production and knowing all costs," he says. "They may help a grower know what their breakeven price is for corn, for example, and they pat themselves on the back at this point.  However, this stops short of what a grower really needs. If a grower's breakeven price is $5.35 for corn, but the market is only at $4.95, what does he or she do?"
The profitability matrix helps farmers identify how crop insurance, hedges, cash sales, forward contracting and other strategies can help mitigate risk under various price and yield scenarios, Beavers says.
Find a basic version of AgYield's profitability matrix is available here, and access additional easy-to-use corn and soybean margin calculators here.