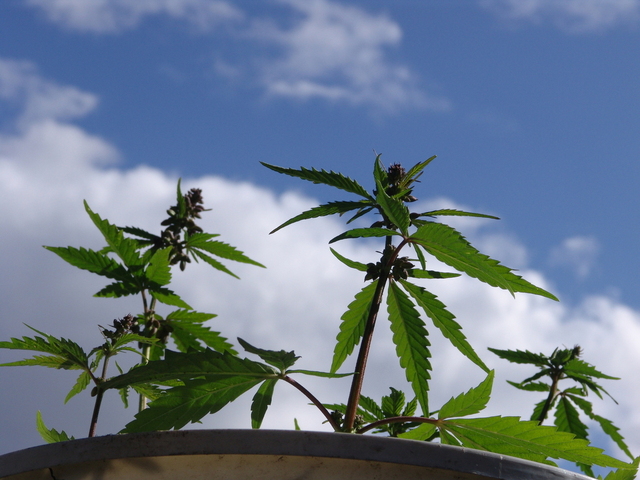 Real-world research in more than a dozen states in recent years is giving farmers new understanding of how to grow industrial hemp and showing that it has promise to be a viable commercial crop in the U.S.
The 2014 federal farm bill allowed for university and state-sponsored research programs of the plant whose fiber can be used in products from paper to clothing and whose oil can be an ingredient in food and health products. Programs have now been launched in 15 states, with two more states coming online, according to the hemp advocacy nonprofit Vote Hemp.
"These last several years, those (programs) have been a big first step," Hemp Industries Association Executive Director Colleen Keahey said. "It's just really important that we get the government agencies ... all working to have a definition for industrial hemp that is equal to that definition in the farm bill."
Federal drug law doesn't distinguish between hemp and its cannabis cousin, marijuana, even though hemp doesn't contain enough THC to get a person high. A bill in Congress that would have changed that failed to get a vote last year, but advocates will try again this year, Keahey said. Her association also is fighting DEA hemp restrictions in the 9th U.S. Circuit Court of Appeals, which ruled in 2004 that the federal government can't regulate hemp food products as controlled substances.
As those battles continue, farmers are learning more about the plant and what it takes to grow it profitably.
North Dakota farmer and crop consultant Clarence Laub, who is taking part in the state's hemp research program for a second year, said the biggest thing he learned last year was the most effective way to seed hemp.
"We'll never be done researching, but as far as getting a baseline, based off last year I think it grows very well in the state," said Laub, who has launched a side business selling hemp oil for food and skin care and hemp protein powder as a health food. "It's very exciting. There's a lot of opportunity in the state for different businesses to arise out of this."
The first year of North Dakota's program provided valuable information on hemp varieties, growing conditions, planting dates and planting costs, according to state Agriculture Commissioner Doug Goehring.
"This is really building a strong case," he said. "Right now, it kind of looks like we could support hemp production across the state."
Hemp profits ranged from about $500 per acre to more than $850 per acre, when many commercial commodities were providing zero returns.
"When net revenues came in, it caught a lot of attention," Goehring said.
The program, for which participating producers pay all the costs, has grown from three producers and 70 acres last year to 35 producers and 3,064 acres this year. The research program in Kentucky, where hemp once flourished before the federal government outlawed its production in the 1930s, has seen similar growth, going from 33 acres in 2014 to 12,800 acres this year.
"There are a lot of farmers that have decreased revenue right now — all farm commodities are down — they're looking for options," said Doris Hamilton, who manages the program for the Kentucky Department of Agriculture. "There's also a new segment (of producers) interested in it for the novelty."
Despite the rich history of hemp production in Kentucky, much research needs to be done, as crop genetics and farm equipment have changed. However, "we know there are varieties that will work well here," Hamilton said.
The research there is yielding information on everything from varieties to fertilizer rates to soil types, though there remain many unknowns and obstacles. There are no approved pesticides or herbicides for hemp, making weeds a big problem, and the economics of the crop will change in the future as more acres are grown affecting supply and demand, according to Hamilton.
"We have a lot of challenges to overcome, but we have made great strides," she said.
Other states with hemp research programs are Colorado, Hawaii, Indiana, Maine, Minnesota, Nebraska, Nevada, New York, Oregon, Tennessee, Vermont, Virginia and West Virginia, according to Vote Hemp. Pennsylvania and North Carolina are developing programs.
Should the research remain promising and the regulation issues be resolved, "we could be growing mass quantities of industrial hemp in the United States and be able to add that to the supply chain for those who are buying hemp already from other countries," Keahey said.
___
Follow Blake Nicholson on Twitter at: http://twitter.com/NicholsonBlake