Genetic decisions have always been important, but the stakes have never been higher than they are now.​
By: Warren Rusche, SDSU Extension Cow/Calf Field Specialist

We're witnessing a cattle market for calves, feeder, and live cattle unlike anything we've ever seen. That's the good news. At the same time the amount of capital at risk and the dollars at stake with every decision have never been higher. The average bull bought this year will very likely cost more dollars than at any other time in recent memory.
So how does that change the bull buying decisions of producers? Although the basics haven't changed, there are some factors that are worth some additional consideration.
Longevity
One way to reduce the cost per calf of higher-valued bulls is to increase their productive life. The following table is a simple example of how getting more years of service from bulls lowers the cost per calf. High-priced bulls that don't last are incredibly expensive. Buy bulls that have been developed to last and manage them so that they will hold up and not crash.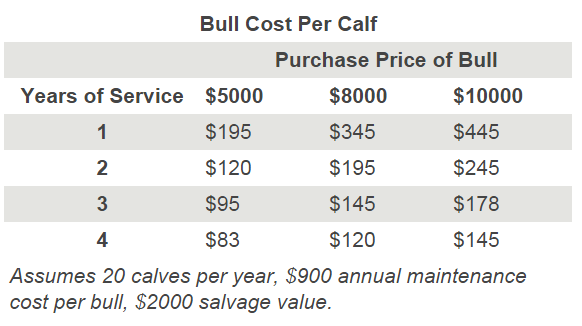 Genetic Merit
Looking at the chart above a producer would be easily tempted to lower their standards. Every operation has budget restraints, but buying the wrong bull for an operation just because he is cheaper will be more costly than spending "too much." The SDSU Calf Value Discovery project has consistently seen profit spreads between the high and low profit steers exceed $500 per head.
Accuracy of Selection
As the cost of breeding assets increase, the costs of making mistakes go up as well. Any tool that helps producers more accurately identify the bulls that meet their goals will reduce that risk. Genomic-enhanced EPDs combine the power of DNA testing tools like the 50K test with traditional performance testing to improve genetic selection and increase the accuracy of EPDs.
Reproduction
In the simplest terms, the bull has one primary job; get cows bred. In today's market, it's nearly impossible for a cow to lose money, provided that she's pregnant and weans a calf. Breeding soundness exams, managing bull condition, and reducing their environment stress are musts. Having extra bull power as an insurance against injury may be worth considering as well.