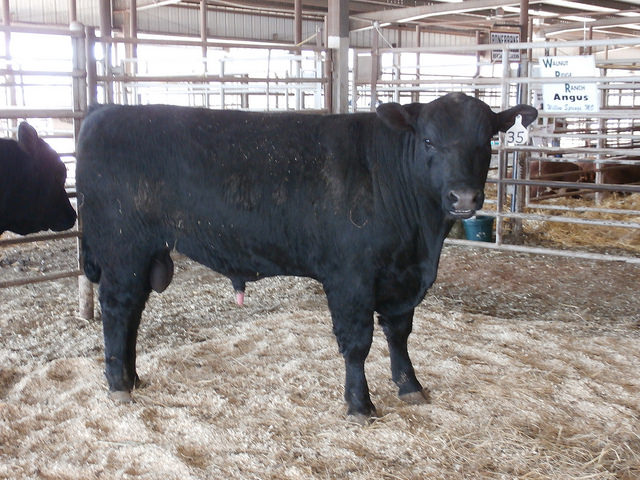 Consignments are now being accepted for the 85th All Breed Performance Tested Bull Sale scheduled for 7 p.m., March 30 at the Springfield Livestock Marketing Center, Springfield, Mo.
The sale is sponsored by the Southwest Missouri Beef Cattle Improvement Association.
Eligible bulls may be from any breed or cross so long as they are registered with an association and have expected progeny difference (EPD) data on them.
The current EPDs must indicate the bull is in the 50th percentile or better for 3 of the following EPD traits (calving ease or birth weight if CED is not available, weaning weight, yearling weight, milk, marbling and ribeye area). Bulls must have an adjusted 365 weight of 1100 pounds or more and be 49 inches or more at the hip at 365 days.
Bulls for the March sale shall be calved from May 1, 2013 through Feb. 28, 2014. Consignments must be in no later than Jan. 31.
The Southwest Missouri BCIA sale on Oct. 27 had 42 bulls sell for an average of $4952. In recent years Angus have been the largest consignment but all breeds are welcome and should be well-received by the cow-calf raisers in the area as the value of crossbreeding seems to be gaining strength during herd expansion.
Persons interested in consigning one or more bulls should contact sale manager, Pam Naylor, Buffalo, 417-345-8330. Individuals can also visit with the nearest University of Missouri Extension livestock specialist in the geographic area from Vernon County to Laclede County and south to Howell County (the boundary for the BCIA).
Additional information is available online at www.swmobcia.com.
For more information, contact any of the MU Extension livestock specialists in southwest Missouri: Eldon Cole in Mt. Vernon, (417) 466-3102, Andy McCorkill in Dallas County at (417) 345-7551, or Dr. Patrick Davis in Cedar County at (417) 276-3313.

Source: University of Missouri Extension