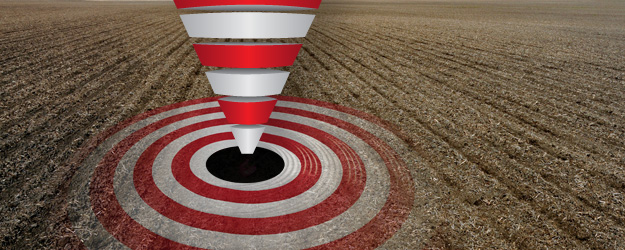 A quote from the recent blockbuster film "American Sniper" sums up an important mindset for farmers: "Aim small, miss small." When the movie's main character, Chris Kyle, learns to eliminate threats as a Navy Seals sniper, his shooting instructor tells him, "Aim for the shirt and you might miss by 2'. Aim for the shirt button and you miss by 2". 

That advice is critical advice for someone with the almost unimaginable job of a sniper. Yet that exact statement applies to every facet of our farming operations as we try to eliminate threats. 

In production agriculture, there are three primary categories for which profit opportunities can be measured. The first is input costs; the second is marketing; and the third is production and yields. Let's identify some threats within each area. 
Identify Costly Inputs. This category gets a tremendous amount of attention. Are we focused on the correct target, though? For example, if we try to lower our herbicide costs, the impact on cost of production is minimal. Even if you drop herbicide costs by $4 per acre, you'll really only change your cost of production by 2¢ per bushel on corn of 185 bu. per acre. On the other hand, consider equipment, which often is producers' second-most expensive line item. 

In my experience, most producers have more machinery than necessary, which can pose a threat. The ability to do field work in a timely manner might justify equipment costs in some cases, but normally equipment isn't the limiting factor. Instead, what holds farms back is the failure to provide correct training as well as cross-training. When a planter shuts off at 10 p.m. because the operator is tired, the machinery isn't the limiting factor, especially if a second person has not been trained to keep machinery moving for longer hours. You might or might not have a sufficient workforce for equipment. In any case, the point is to make sure you are aiming at the correct target when improving profitability.  
Learn To Market. The most volatile threat producers deal with every year is marketing. Extremes seem to have a psychological effect on our decision-making, both positively and negatively. High prices can get us overly optimistic, while low prices can leave us feeling lethargic or even paralyzed. 

The primary threat with marketing is not having a clear understanding of costs and not updating those costs weekly. The second threat is limited knowledge of the tools available to manage downside risk. The third threat is not having a written plan or price targets—and a lack of discipline. Too many opinions can be confusing. Work with one or two market advisers or brokers who clearly understand your expenses and margin goals.  
Protect Critical Yields. Production is the most important factor of the three categories. A negative yield impact will kill the prospects of profitability faster than anything else.  

Threats loom constantly throughout the growing season. Insects, diseases, excess water, drought, temperature extremes and other challenges require constant attention. If yields begin to fall lower, the cost of production starts to increase rapidly. 

Conversely, increasing your yield is the fastest way to lower costs per acre. For example, with 185-bu. corn and a cost of production of $740 per acre, every 10 bu. of yield increase is equivalent to a 20¢-per-bushel premium. 

Yields are critical to the formula of profitability, so any potential negative should be removed, provided the expense is equal to or less than the bushels being protected. Remember to aim small and miss small as you target yield protection.