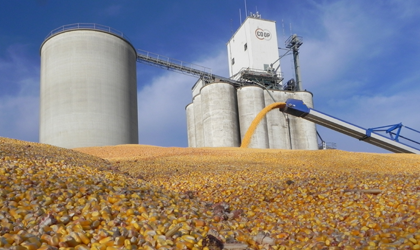 An Indiana feed mill is now selling more grain byproducts than ever.
By: MICHAEL RESCHKE, The Herald-Times

MARTINSVILLE, Ind. (AP) — About 600 pounds of corn gluten falls into a buggy at Morgan County Feed. It's just after 8 a.m., and the morning sun is illuminating the particles of feed swirling through the air inside the county's oldest ongoing business.
"We've been here for 150 years," said owner Scott Whaley.
Well, he hasn't been there that long. Whaley bought the business in 1998, and he soon thought he'd made a mistake. Back then, they were doing a lot of 500- and 600-pound orders. Now, they could do 50 tons in a day.
"The feed business has been very good," Whaley told The Herald-Times.
There's a couple of reasons for that. The first is a lack of competition.
"None of these places are left," he said. "Feed mills are few and far between."
The other is having the foresight to seize an opportunity.
Out back, beneath the massive steel grain bins, Whaley explained that most of what he sells now is byproduct.
"I got in on the ground floor with soy hulls," he said. "When I first started out, you could buy them for hardly nothing. Now, they're one of the hottest commodities on the market."
It appears one man's bust is another's boom, because many of the reasons byproducts have become so popular are the same reasons you're paying historically high prices for beef.
The Energy Policy Act of 2005 created the country's first renewable fuel volume mandate in the United States. Now corn is being used not only for food and feed, but also for fuel. The historic 2012 drought reduced the total production of corn, but not the renewable fuel standard.
With less corn to go around, the price spiked.
Corn prices dictate the prices of other grains, so feed costs increased. To cut costs, cattle farmers decided to thin their herds. That reduced the supply of beef, but not demand, so beef prices increased.
In the meantime, the cattle that remained still needed to be fed. Looking to cut costs more, farmers turned to byproducts.
Corn and soybean byproducts are essentially what's left over when those crops are processed. For example, soybeans are grown for their oil content, said Ron Lemenager, beef extension specialist with Purdue University. Soybean oil is used in a variety of products for human consumption, such as salad dressings. What's left is soybean meal and soybean hulls, which are actually the skin of the soybeans.
Corn, in addition to being used in ethanol production, is milled for a variety of products such as starch and sweeteners. The residue that's left behind is used to create corn gluten feed, Lemenager said.
These byproducts are high in protein and fiber. Humans can't digest them, but ruminant animals, such as cattle, can. Ruminant animals have four stomach compartments, the largest being the rumen, which contains billions of microorganisms that allow it to break down coarse vegetation such as grass.
As it turns out, not only can cattle digest byproducts, they can thrive on them.
"Corn and soybean byproducts make really good beef feed," Lemenager said.
Whaley said byproducts sustain cattle well. He said they can be fed to calves as well as older cows, which can't founder on it as they might on other grains. Founder, or laminitis, is an inflammation of the lamina surrounding the hoof bone, which can cause pain and permanent damage. It usually occurs in animals that have gorged themselves on large quantities of grain, according to the Merck Veterinary Manual.
"I've not used corn at my house in six years," Whaley said.
That's not just because of the quality of byproducts; it's also because of the price. Whaley said a feed mix using corn and bean meal costs close to $300 a ton. A feed mix of soy hulls and corn gluten starts at about $260 a ton, but longtime customers who buy in bulk don't pay that much.
"We used to not make a lot of cattle feed," he said. "Now we make a lot."