Intense analytical skills and a strong team allow young farmer to thrive
For Matt Sims, farming is a numbers game. It's about juggling assets versus liabilities, analyzing cost of production on every acre and, above all, about managing working capital.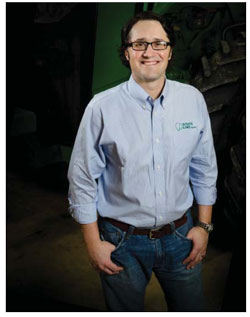 General manager Matt Sims, 35, of State Line Farms helped triple the operation's size. 
"I think about working capital from the minute I wake up to the minute I go to sleep," says Matt, 35. Armed with a calculator, his custom-built cost of production spreadsheets and current balance sheet at all times, Matt is following the sound advice for farm economy downswings: Know your numbers.

In 2005, Matt left a high-paying job as a manufacturing engineer to join his step-dad, Mark Wright, as a hired hand on the family farm. State Line Farms is a corn and soybean operation headquartered in State Line, Ind. "I wanted to see the direct impact of my work," Matt says. 

While he loved the work, the farm didn't offer enough hours to support two full-time employees, so Matt worked for just over minimum wage. "I knew I had to find ways to make our operation more profitable and efficient," he says. 
Know Thy Strengths. That's just what he did. Matt's entrepreneurial enthusiasm, chronic goal-setting, networking ability and careful financial and risk-management strategies are just a few of the reasons he received recognition this winter during the 2015 Tomorrow's Top Producer conference as the winner of the prestigious Horizon Award.

Since 2009, Matt has undergone seven surgeries because of major back and spinal cord issues. The surgeries made him miss a combined year of work and made it almost impossible for him to operate farm machinery for long periods of time. 

Although most people would be discouraged by these physical limitations, Matt used them as an opportunity to develop his financial and business skills. "I was sort of forced to work in the office," he explains. "But that is probably the biggest reason we've had our growth. I'm a business person who just happens to be in the farming industry."

For several years, Matt and Wright shared all major farm responsibilities. They worked well together, but the structure didn't result in the most efficient use of their skills, which created tension at times. In January 2014, Matt became general manager, overseeing the business aspects of the farm, while Wright became operations manager and focused on the field and day-to-day operations. The clear division of duties has made the farm more professional and is helping Wright transition into retirement. 

A new operations manager, Eric Davis, started work in January 2015. Although Wright is looking forward to having more freedom, he's happy to provide input and advice to Matt, Davis and the farm's other full- and part-time employees, an advantage the entire team enjoys. 

"Mark has been a mentor and given me so much guidance," Matt says. "He has always given me the freedom to do what I think is necessary for the future of our farm. It is typical for a father to say, 'This is the way we have always done it and will always do it.' With Mark, it has never been this way."
Bright Future. Each year since 2007, State Line Farms has grown its acreage base 18%, on average. It hasn't been easy, notes Matt, since the farm straddles the flat expanse of the Illinois-Indiana border, a productive and competitive area.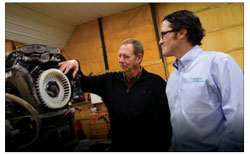 Seven major surgeries left Matt Sims unable to run equipment, so he delved into office work. His step-dad, Mark Wright, is a key mentor. 
"I came into farming at a very profitable time," Matt says. "That meant everyone wanted every acre they could get to either purchase or rent. It also meant that no one was retiring, quitting or going out of business for financial reasons." 

State Line Farms' growth goals are steady and sustainable. "Too often, many farming operations feel the need to grow their operation under the false theory, 'bigger is always better,'" explains Adam Stonecipher, vice president of agribusiness banking at First Midwest Bank in Danville, Ill., and Matt's banker. 

"All of Matt's financial decisions are calculated very carefully. Risk-management strategies are well crafted and followed diligently, and nothing is done for the sole sake of farming more acres," Stonecipher says. "All cash rent bids are carefully calculated using sophisticated spreadsheets and projected to be profitable, or they are not pursued." 

Matt and his team have set acreage goals for every year for the next decade. "We know what machinery, facilities, financial controls and, most importantly, what people we will need to reach these goals," Matt says. "We, as well as our advisers, are comfortable with these goals. If we don't reach them one year, we don't get too caught up on it because it means the right opportunities were not there." Most of the acreage growth State Line Farms has undergone is due to Matt's networking and developing relationships instead of always offering the highest rent. 

He spends countless hours getting to know local farmers, farm managers, business owners, attorneys, real estate agents and investors. Matt's talkative nature and confident, yet humble, attitude makes partners gravitate to him. 

Plus, Matt is quick to jump on new opportunities, especially when time-rushed real estate agents or farm managers call. "I know what every farm around here is worth for me to rent with today's inputs and current market prices," he says. "If someone calls me up to bid a farm that I know, I will typically put in an offer right then. They love that I can give them a bid so quickly."
Focus On People. Matt views landowners as partners, which is a multi-generational mantra of State Line Farms. Each year, the team hosts all landowners, which total nearly 40, and key suppliers at a customer appreciation event. Nice gestures like that, in addition to regular communication, keep landowners signed on for the long-term. More than 750 acres they rent today have been leased for more than 70 years. 

"Matt has an extremely strong and profound duty to those around him," explains Michael Zuzolo, president of Global Commodity Analytics & Consulting and one of Matt's market advisers. "I see this keenly in his relationship with his landlords, employees and, most importantly, his family." 
Learn more about the Tomorrow's Top Producer Horizon Award and previous recipients at www.TopProducer-Online.com/TTP.
---
Control Costs to Push Profits
Farming is an industry where someone tells you what you will pay for inputs and someone else tells you what your product is worth, says Matt Sims. "The only way I make money is to widen that margin and produce as much as I can," he explains. With margins tightening, here are some ways he is managing costs. 

Machinery: All machinery debt has been restructured to longer-term fixed loans. This allowed Matt to cut per-acre machinery costs by $20. Leases also are used strategically.

Seed: Farm team members evaluate hybrid and variety performance each year. They are willing to pay for the latest technology as long as the cost equals higher yields. 

Rent Payments: Instead of making the two traditional cash rent payments on April 1 and Nov. 1, Matt offers his landlords the option to be paid in full, with interest, in November.

Marketing: Matt works with two market advisers. His annual marketing plan includes puts, calls, hedge-to-arrive contracts, forward contracts, cash sales and basis contracts. 

Improvements: Future plans include a separate building focused on farm business. That would allow the farm's current office to serve as headquarters for field operations. 
---
State Line Farms Snapshot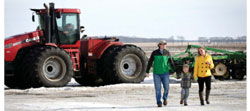 The fourth-generation farm includes Matt Sims, his wife, Stacey, and their son, Cooper.
Operation: State Line Farms is a fourth-generation farming operation located in State Line, Ind. Hyta Wright founded the farm in 1928. Hyta's grandson, Mark Wright, joined the operation full-time in 1972 and today, Mark's stepson, Matt Sims, serves as the operation's general manager. State Line Farms includes corn and soybean production in Illinois and Indiana across 4,600 acres, 90 of which are owned. Since 2007, State Line Farms has tripled in size.  

Team: As general manager, Matt is in charge of such duties as financial record-keeping, grain marketing, acreage growth and capital purchases. Until January 2015, Wright served as operations manager and oversaw daily activities and field operations. Wright is transitioning into retirement and new employee Eric Davis has succeeded him as operations manager. State Line Farms has one other full-time employee along with seasonal help. Matt's wife, Stacey, and his mother, Colleen, are involved in landowner and public relations. Matt and Stacey have a four-year-old son, Cooper. 

Technology: State Line Farms uses a cloud-based record-keeping system to track financials on every farm entity. The system allows them to monitor inputs, yields, contracts and more. The team also soil tests every acre on a four-year rotation for variable-rate application of fertilizer and other inputs. 

Leadership And Community: The Sims and Wright families focus on promoting and supporting agriculture and education. Each year, they provide scholarships to their high school alma mater and the local community college. They also produce half an acre of sweet corn annually to donate to local food banks and churches, in addition to other community outreach.
.................................... 
Register now for the 2016 Tomorrow's Top Producer business conference happening June 16-17 in Nashville!