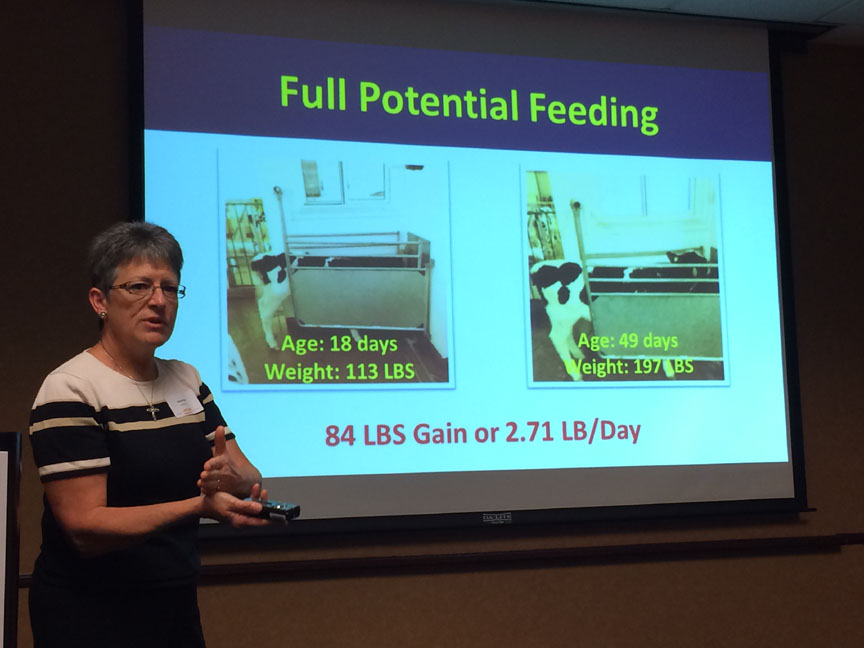 How one Minnesota farm raises healthy calves that turn into productive cows.
By Wyatt Bechtel
When it comes to raising healthy calves that turn into productive cows, nutrition is a must.
Marcie Feine has been custom growing heifers with her family at Feine-est Heifers in Rushford, Minn., for the past 17 years. Feine outlined areas of focus for her operation during a media session hosted by Land O Lakes at World Dairy Expo.
Annually, Feine-est Heifers will raise 750 heifers. Calves arrive at a day old and leave the farm once confirmed pregnant.
"We raise mostly Holsteins, but we have a couple of farms that raise Jerseys, a few Brown Swiss and some crossbreds," Feine says.
In 2013, the operation transitioned from individual calf feeding to group housing utilizing automatic calf feeders. Calves are preconditioned in an individual pen for up to 2 weeks of age prior to entering the group barn.
"The biggest thing for us as a family is we believe in stewardship," Feine says. "I want to do as good of job with those babies, as if they were my own."
The biggest area Feine targets for calves to be helped in their development are with nutrition. "The best nutrition that you can give that animal is going to give them a better chance at a healthy future."
Full potential feeding has been an important factor with nutrition. Feine-est Heifers has been feeding seasonal milk replacers like Land O Lakes Cow's Match ColdFront and WarmFront to better meet the needs of calves throughout the year.
"If they aren't fed well to begin with they won't have much of a start," Feine says. "Now, as custom raisers we have to get them up and growing quickly."
Feine has seen calves consistently gain around 2.5 lb. per day from birth to weaning. At day 49 calves are weaned.
Besides the focus on nutrition Feine also puts an emphasis on health and animal handling.
Part of the farm's procedures are to twice a day disinfect everything that comes in contact with a baby calf's mouth, like the auto feeders, bottles, nipples, waterers and feed bunks.
Daily, weekly and monthly protocols are written out so everyone on the farm understands what needs to be done.
"One of the biggies for me is if a calf doesn't finish its milk, temp it," Feine adds. "Take its temperature and get right on it so something (illness) doesn't get in front of you."
After the temperature is taken it is written down to help monitor the health of the calf.
Pain free dehorning has been part of everyday practices since 2008. Calves receive a shot of xylazine, lidocaine and fluxin to help numb the horn bud prior to dehorning.
"They don't ever have to hurt and let me tell you that makes a big difference," Feine says. "My babies are never afraid to come up to me, not after dehorning. Calves aren't afraid to put their head through the front gate and into the bucket. I think they have an incredible memory for kindness."