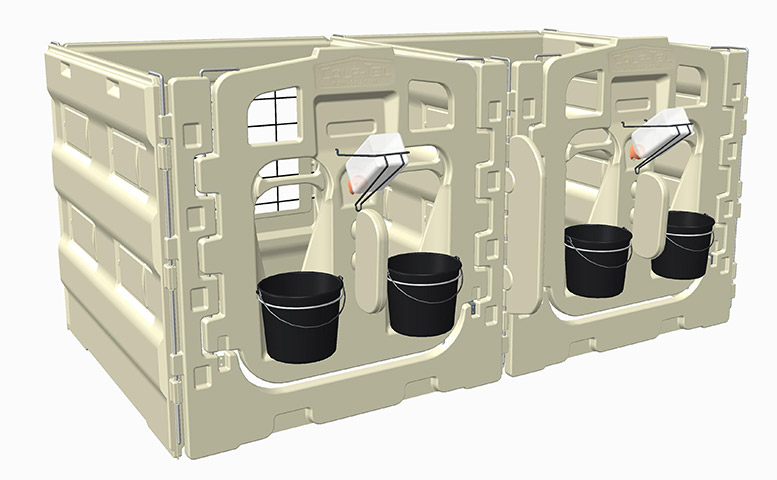 Hampel Animal Care introduces the next generation pen front, part of Calf-Tel's modular pen system.
The new pen front works seamlessly with existing Calf-Tel pens, and now provides a number of enhanced features, including:
Flexibility to open the pen front door inwards or outwards, and have the door hinge on the right hand or left hand side.
A new locking mechanism which secures the door at the top and bottom, providing superior strength and ease of use.
One of a kind feed opening size and shape. A new tear drop shape minimizes the chance for calves to escape and helps pre-train calves for future headlock style feeding.
An optional larger feed opening for bigger calves, and an optional feed restrictor for smaller breeds and animals.
A new pail holder design with a single pail height and single ring pail holder.
"The improvements to the Calf-Tel pen front is one of many examples that illustrates how we implement customer feedback to shape future products," says Joe Weber, marketing manager, Hampel Corp. "The new Calf-Tel pen front is now even more user-friendly thanks to the suggestions of our loyal customers."
Calf-Tel was the first to introduce a plastic modular pen system in 2006, a system that has since been embraced world-wide by dairies of all sizes. To see the pen system and the new pen front, stop by Calf-Tel's booth in the exhibit hall at World Dairy Expo (Booth EH 2008-2309).
Hampel Animal Care, a division of Hampel Corporation, began serving the agriculture industry in 1981 with the introduction of Calf-Tel housing systems. Today it is the number one choice for calf housing, worldwide. For more information, visit www.Calf-Tel.com or learn more at www.facebook.com/calftel and www.youtube.com/calftel. 

Source: Hampel Animal Care