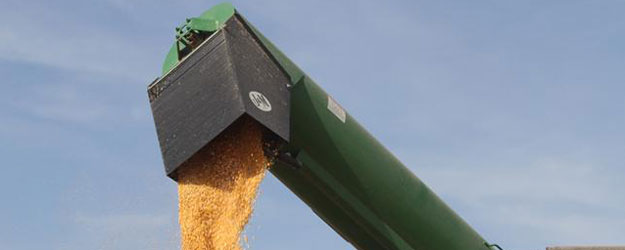 Yield monitors are essential for spatial accuracy.
When it comes to calibrating yield monitors, the split between accurate and precise data can be a wide gap.

Yield monitors, and the maps they provide, are key to finding out what problems are going on in fields and where those deficiencies are located – whether drainage, pests, compaction, and even mechanical or operator problems late in the season. Yield maps also partner with aerial imagery and VRT farming guidelines in creating management zones.

At Corn College 2014, Brad Beutke, Crop-Tech Consulting, Heyworth, Ill., detailed the key issues of yield monitor calibration. "The main thing to think about when calibrating a yield monitor is the idea of spatial variability – the difference in the quantity of measurement taken at different locations."

Spatial variability is essentially the difference in yield at separate spots in a field. Beutke is not concerned with how many bushels are coming off the field – that number can be weighed and tallied later. Yield maps with good spatial variability create the best data for building management zones.

Good spatial variability in a yield map requires a yield monitor calibration more for precision than accuracy. What's the difference between precision and accuracy? An accurate yield monitor can count the correct bushels for the field, but it may or may not provide maps with good spatial variability. However, a precisely calibrated yield monitor will show the best spatial variability and it may or may not count the correct bushels for the field. With a map that's precise, but not accurate, Beutke says it's relatively simple to take those scale numbers and use desktop software to take that information up or down to make it accurate.

"Accuracy or precision for yield monitoring? Ideally a yield monitor will do both and allow for good maps and still match scale tickets. However, the precise calibrations are the ones we're ultimately going to shoot for and they pick out management zones."

A good calibration handles wide yield swings with both high accuracy and precision within 3% percent of scale. A poor calibration usually exaggerates the high yields and underestimates the low yields. Each monitoring system calibrates differently, but according to Beutke, the monitors that usually provide the best maps and spatial variability are Ag Leader, Case IH AFS, and the Deere 600 Series.

Ag Leader and Case IH monitors have an advantage because they can be post-calibrated. "If I'm farming 3,000 acres, I can combine 2,960 acres and then calibrate off the last 40 acres. It will then go back and fix all my maps," he says. Producers don't necessarily have to calibrate at the beginning of the season. They can fix calibration at the end and the changes will apply to all previously gathered data.

"A lot of people judge how well they calibrate their combine on how well the bushels or pounds match with the elevator ticket," Beutke says. "We need to get away from that type of thinking."
Thank you to the 2014 Corn College sponsors:
AgriGold, BASF, Chevrolet, Cover Crop Solutions, FMC, Great Plains Mfg., Precision Planting, SFP, Top Third, Yetter Mfg.