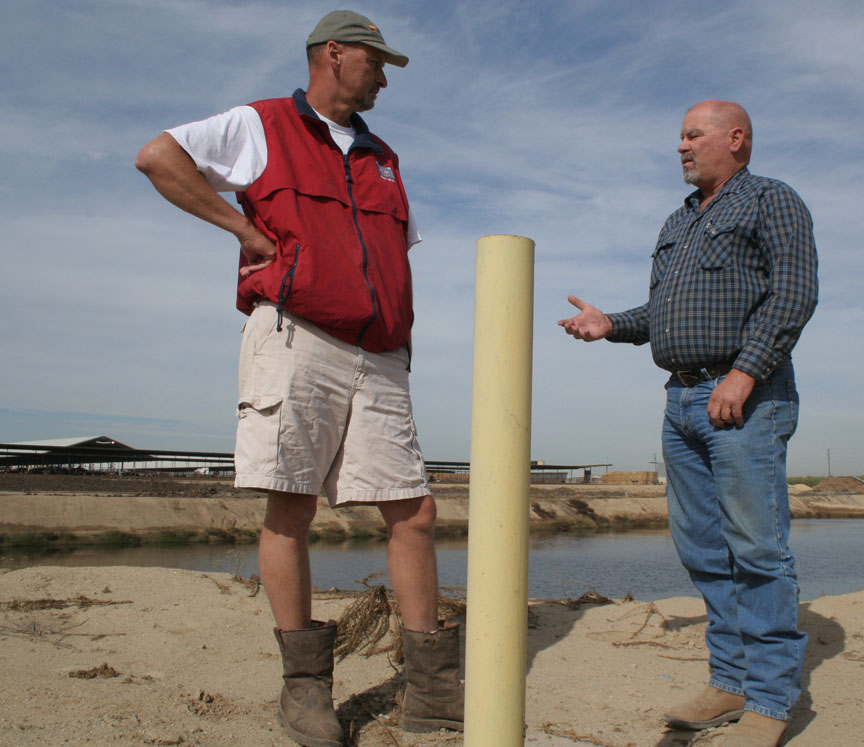 NRCS invested over $8 million in manure management plans and structural practices to help dairymen comply with increasingly stringent federal and state water quality regulations. 
Source: Natural Resources Conservation Service
DAVIS, Calif. - California's agricultural landscape received a healthy boost of conservation in fiscal year 2014. Over 2,400 farmers and ranchers teamed up with the USDA's Natural Resources Conservation Service (NRCS) and partners to voluntarily invest time and money in protecting and improving soil, water, air, plants and wildlife habitat across California's landscape, through the Environmental Quality Incentives Program (EQIP).
NRCS California invested nearly $100 million in working lands conservation programs. When contributions by farmers and ranchers are included, this figure nearly doubles. This monumental investment came during the transition year from the 2008 Farm Bill to the new 2014 Farm Bill.
Each EQIP participant, and over 200 others, worked with NRCS to voluntarily create a conservation plan that identifies goals for improving natural resources on their property. The plan outlines possible structural and management solutions to address resource needs such as erosion, conserving and protecting water, enhancing air quality, improving soil and plant health on range and forestland, creating habitat and more.
"This was a challenging year for producers, and conservation in general, due to dry conditions around the state," says Carlos Suarez, State Conservationist for NRCS in California. "Recognizing this, I am extremely impressed by the work undertaken by our customers and partners to survive and thrive using the conservation practices available to them. NRCS created dozens of conservation plans with producers to help them make the most of every drop of water."
In a year of extreme drought, NRCS assisted farmers and ranchers to sustain their operations for better years ahead. The Agency launched a $25 million drought initiative in February 2014 to complement the actions of state and other federal agencies to provide critical services to the agricultural community. The funds were spread to assist farmers in addressing soil erosion, soil health, fallow fields, and irrigation efficiency. Additionally, twenty agricultural landowners whose property was damaged by catastrophic wild fire, received approximately $920,000 for conservation assistance such as erosion control, preventing encroachment by invasive plants, and aiding water quality.    
In 2014, NRCS continued its commitment to helping California's dairy industry to remain healthy and sustainable. NRCS worked with producers and invested over $8 million in manure management plans and structural practices designed to help dairymen continue their efforts to comply with increasingly stringent federal and state water quality regulations. 
California is home to some of the compromised air quality in the nation.  To help achieve clean air goals, NRCS invested over $21 million to address dust, particulate matter, and on-farm engine emissions. Through NRCS's National Air Quality Initiative, farmers recycled old, high-polluting diesel engines and replaced them with significantly cleaner systems.  Since 2009, these efforts have reduced oxides of nitrogen emissions, an ozone precursor, by an average of 2,600 tons per year.
Beginning in 2014, military veterans who are new farmers or ranchers received an application preference for available conservation funding. This preference helps veterans qualify for funding to include conservation practices early in their new agricultural careers, helping them get a good start on long-term success.   
The 2014 Farm Bill retired the Agricultural Water Enhancement Program and the Cooperative Conservation Partnership Initiative. A new Regional Conservation Partnership Program (RCPP), a multi-layered program to address localized conservation needs, replaced them. A wide variety of conservation projects will be approved through RCPP to address watershed issues, declining wildlife habitat, and other critical needs throughout the country. 
In addition, the 2014 Farm Bill retired the Wetlands Reserve Program, Farm and Ranch Lands Protection Program, and Grasslands Reserve Program. The new Agricultural Conservation Easement Program continued many of the same easement priorities in a more streamlined fashion. In particular, the Sinnamon Ranch project now permanently protects 600 acres of critical Sage Grouse habitat in Mono County. NRCS has partnered with a number of California's ranchers since 2010 to protect this declining species.
NRCS has provided leadership in a partnership effort to help America's private landowners and managers conserve their soil, water and other natural resources since 1935.