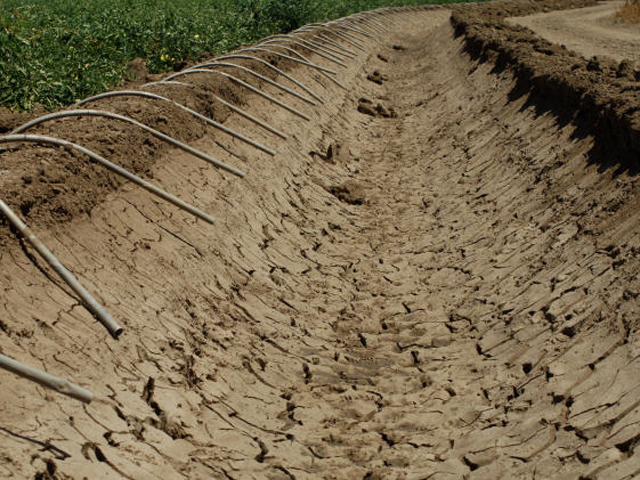 It's been four years of dry, dusty weather for the nation's biggest agricultural state.
The past three years, meteorologists say California received an average of 51 inches of precipitation, about 16 inches below average. That's the 11th driest 3-year period during all of record keeping.
 "We've been through dry periods before, we should not be as short of water as we are today," says Paul Wenger, California Farm Bureau President. "It's complete and total mismanagement of our water resources."
The situation is worse the farther south you go.
"We need snow pack and we need reservoir full so we can get water to those growers in the south end of the valley or it's going to be a very critical year for them," says Wenger.
Unfortnuately, just last week the California Department of Water Resources conducted its second manual snow survey of the season. Officials discovered while the situation is better than it was in December, the snow pack is still way below average with the snow water equivalent to only 2 point 3 inches.  That's only 12 percent of average and extremely disheartening, as the snowpack supplies about 30 percent of California's water needs in the spring and early summer, including vital farm irrigation.
No matter what part of the state you visit, the reality is the same. In Sacramento Valley, rice grower Mike Dewitt says 2014 was a tough year.
 "For the 2014 year, I was reduced by 30-percent of my acres," says Dewitt. "I'm not sure what to expect. Last year we didn't get the rain so we knew there would be a reduction.. how much, we didn't know."
These aren't just farmers impacted by the drought. The Sacramento Valley is a key part of the U.S. food chain. California is the nation's second-largest rice producer, including producing nearly all of the rice used for sushi.
"The Sacramento valley is where 97-percent of the rice is grown in California and in a typical year, we will produce 550,000 acres and produce 4.5 billion pounds of rice," says Jim Morris, Communications Manager for California Rice Commission.
Dewitt says he's in the peak of this rainy season. He needs that precipitation now, because chances are, he won't receive it come March.
"I haven't seen anything like this," he says. "We had a big drought in the late 70's but that only lasted two years. Our water supply is low, critically low."
Walnut and almond growers are hoping for rain too.
"In a normal year, almonds will use anywhere from 30-36 inches of water depending on the soil," says Wenger. "Last year, we didn't have the water and got by with 24 inches. That put us into stress mode,">
It's not just water, but heat that's been a problem. This is the time of year their trees need to receive enough 'chill hours', that's temperatures under the forties. Wenger says right now his crop is behind and it likely won't catch up.
"I hear almonds in some parts of the state are in bloom," he says "The reason is because they were stressed from the drought. If they're in bloom, they can't produce. That blossom will not pollinate,">
The California department of water resources is trying to help. With the assistance of the Desert Research Institute, scientists installed this floating water station (or buoy station) in the Folsom Lake, near Sacramento, earlier this month to measure how much water evaporates over bodies of water.
 "We have to figure out just how much of that stored water is lost to that moisture so that you know how much is left for distribution for different water users," says Bekele Temesgen, California Department of Water Resources.
Over water and on land, Mark and Chuck Ahlem put in center pivots for conservation.
With the flood irrigation, we couldn't really control how many inches of water we were putting on the field," says Mark Ahlem, with Hilmar Dairy. "With the pivot, I can program if this crop needs one or two inches of water and I'm hoping to cut water usage by a third."
Their goal is all about recycling and reusing water.
"As we farm more for feed, I'm putting center pivots in, and I'm going completely away from flood irrigation on this sandy ground," he says.
Producers from all sides of the ag sector hope 2015 brings some relief.